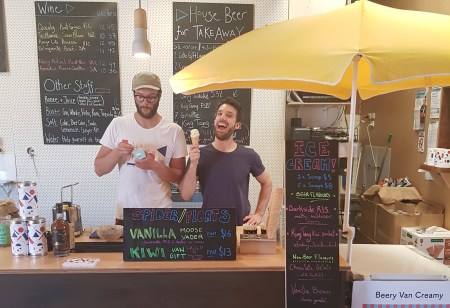 Tallboy and Moose has teamed up with local ice creamery Billy Van Creamy to reinvent a couple of their beers in ice cream form.
Starting yesterday (24 January) and running across the Australia Day long weekend, the Preston brewpub will be serving two unique ice cream beer flavours, as well as ice cream and beer spiders (or floaters, depending on your hemispheric orientation).
Dark Side of the Moose, a Russian imperial stout and the brewery's biggest and blackest beer – clocking in at 9% ABV – has been churned into the ultimate whipped dessert; Steve Germain, one half of Tallboy and Moose, told Beer & Brewer that the result "tastes way beyond my expectations".
"I thought it would be good but it's just unreal – there's a really, really distinct beer flavour, but because it's such a rich and malty, chocolaty beer, that's expressed too. It's very well balanced with the sweetness and creaminess of the base ice cream."
"We've had Dark Side of the Moose in the cellar from this past winter, and it's also just a great excuse to throw a Russian Imperial Stout on tap in the middle of summer!"
Beer number two uses Tallboy and Moose's King Tang, a kettle sour Berliner Weisse made with kiwi fruit, to create a lean and bright sorbet with a serious kiwi hit.
Spiders on offer will include a 'Vanilla Moose Vader' (Dark Side of the Moose pint with vanilla bean ice cream) and 'Kiwi Van Gift' (Late Gift hoppy lager pint with King Tang sorbet).
Germain, originally from Toronto, was inspired by his favourite hometown brewery Bellwoods – who are also known for their collaborations with an ice creamery across the street.
"Similar to our Beerspresso event that we did during Good Beer Week, we like to team up with other local small businesses because that's what we are too.
"Billy Van Creamy are just down the road in North Fitzroy; they're two guys who've started up and are small and scrappy just like us, and they're making really high quality, awesome handmade ice cream."
For more details on Tallboy and Moose's 'Beery Van Creamy' event, head to the Facebook event page.