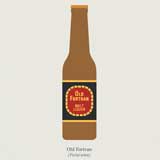 Ask any committed beer geek, and they'll tell you that there are two awesome things that can happen after walking into a venue with a fantastic beer list. The first: finding a long-lost favourite beer that you thought you'd never taste again – or second: finding a beer you've never heard of, trying it and finding out it's amazing.
But what if you could have the ultimate beer list, right there on your wall… and the kicker: every beer on the list is from a work of fiction, and highly unlikely (ie, it'll never happen, so stop dreaming…) to ever be put into actual production.
The characters at Pop Chart Lab have been doing their homework, and the result is a brilliant 18″ x 24″ poster, featuring all the beers your dear geeky self has ever seen in a Sci-Fi series or read about in an obscure work of fictional genius that you're sure none of your friends have ever read.
With everything from Pawtucket Patriot Ale (Family Guy) and Old Fortran Malt Liquor (Futurama), to the slightly more highbrow Winkle's Old Peculiar (Discworld) and the Panther Pilsner (The Three Stooges), every comedy / geek beer you could think of is there.
Check it out at Pop Chart Labs website – along with all their other amazing beer charts.