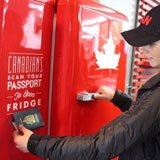 If you're reading this from the wintery depths of the 2014 Sochi Winter Olympics, we have good news for you – Canadian brewer Molsons has set up a beer fridge at the Canadian Olympic House.
Well… it's more of a vending machine, really – but it is free! There's a catch, of course – the machine only works if you're Canadian. It's been set up with a passport scanner – and if you're Canadian (or you've recently robbed someone who is Canadian and taken their passport…) simply pop it into the scanner, and the door will swing open to reveal a fridge full of Molsons.
Ingenious marketing ploy, or just mildly racist? We reckon it's both.