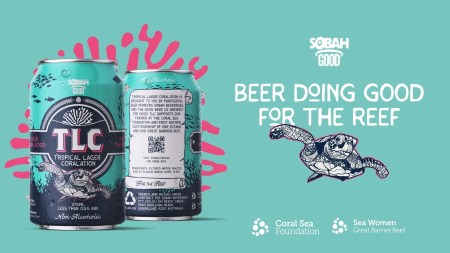 Sobah and The Good Beer Co have released the non-alcoholic Tropical Lager Coral'ation (TLC) to champion First Nations custodianship of the Great Barrier Reef.
Brewed by Sobah, the limited-edition release will help fund First Nations women to take part in the Coral Sea Foundation's Sea Women of the Great Barrier Reef marine biology training program that supports them to act as guardians for the Reef in their local communities.
Tishiko King, Kulkalaig woman, manager of First Nations Engagement for the Coral Sea Foundation and Sea Women of the Great Barrier Reef lead trainer, said: "First Nations women globally play a pivotal role in their communities. And in my sea country and culture we are deeply connected to that, with women tending to and caring for our oceans.
"We're excited that TLC will support us to launch and to grow Sea Women of the Great Barrier Reef, working with women who are already using traditional skills and knowledge to protect sea country and the Reef from the impacts of global warming."
Dr Clinton Schultz, Gamilaraay man and Sobah founder, said: "As a proud Aboriginal owned and led business, First Nations custodianship of sea and land country and the Great Barrier Reef is in our DNA.
"Of course it's a deadly and delicious beer, but it's also a brew that all Australians can get behind and feel good about because it's going to help the Sea Women of the Great Barrier Reef program to launch and to grow and grow."
The Good Beer Co founder James Grugeon added: "We all know that – thanks to climate change – our Great Barrier Reef has been doing it tough and needs some TLC right now.
"As well as raising funds for the Sea Women of the Great Barrier Reef our Tropical Lager Coral'ation aims to showcase the work of the Coral Sea Foundation and to underline how important First Nations science and knowledge is to Australia's response to climate change, ocean and Reef conservation."
TLC has been launched on the Pozible crowdfund platform here.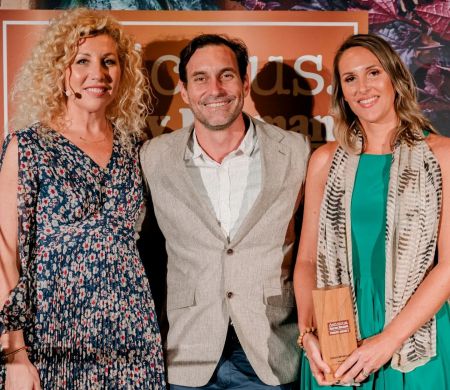 Meanwhile, Sobah were recently announced as the winners of the "In the Bottle (No-Lo)" category in 2022 Delicious Harvey Norman Produce Awards.
Now in its 17th year, the Produce Awards focus on the people who grow, harvest and catch the produce that's supplied to some of the country's leading chefs and hospitality venues.
The judges – which included Josh Niland, Lennox Hastie, Matt Stone, Jo Barrett, Matt Moran, Andrew McConnell, Peter Gilmore and Alla Wolf-Tasker – said they "wanted to discover the producers leading the field in their production ethos, cultivation and wild-catch practices, and the top-quality produce it results in. We've acknowledged producers with a focus on environmental sustainability, provenance, species diversity, preservation and collaboration with the local community".