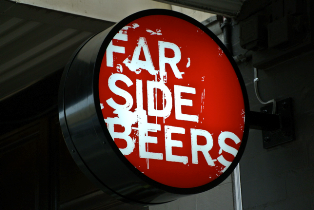 A new craft beer retail shop, Far Side Beers, has just opened in Melbourne's suburb of Camberwell. Opened by Mairead Kennedy, a self-described 'craft beermonger', Far Side Beers stocks craft brews, locally sourced and from across the globe.
After arriving in Melbourne two years ago, Kennedy found she had to travel too far in order to find decent craft beers. "I like to try a different beer style every time I visit a bottle shop", Kennedy says. "I just couldn't get the variety I wanted in Camberwell." And so, Far Side Beers was born.
As Kennedy outlines, despitean overall decline in beer consumption, consumers of craft beer have quietly increased over the past five years from 3.5 per cent to 5.7 per cent. Kennedy will stock only exceptional craft beer sourced from independent brewers, as paramount to her cause is the desire to share her passion of quality craft brews.
"I want to give my customers an exceptional experience when they visit my shop, they can leave having tasted a sample of something a little bit different or knowing a little bit more about the brewer and the ingredients used to produce their favourite beer."
887 Burke Rd. Camberwell, VIC, 3124