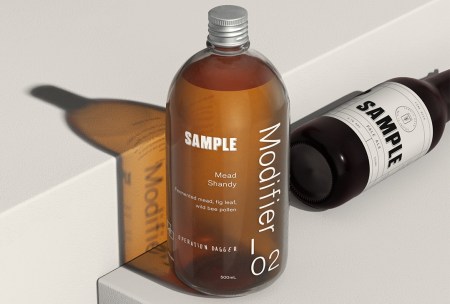 Sample Brew and Singapore-based cocktail bartender Luke Whearty have joined forces to launch 'Modifiers', a range of specialised drinks that combine with three of the brewery's beers.
According to Sample, when Modifier is added to its Pale Ale, Lager or ¾ IPA, the result is an "entirely new drinking experience underpinned by the principles of cocktail making."
The three Modifiers – 'Saltbush Lagerita' (20% ABV), 'Mead Shandy' (6% ABV) and 'Koji Caramel Boilermaker' (25% ABV) – allow drinkers to transform the flavour profiles of the Sample range, without the overheads traditionally associated with limited edition runs.
"The SAMPLE Brew Modifiers are simple to use: just add 10ml of modifiers to 100ml of our beer, and there you have it, an entirely new beer experience," said Vedad Huric, founder of Sample Brew.
"Sample Brew has always sought to push the boundaries of what's possible when it comes to beer, and Modifiers is the logical next step after the popularity of our previous limited edition runs: our partnership with D&AD RARE and our Persian Love Porter, which sold out in less than 24 hours."
For Luke Whearty, the partnership was an opportunity to apply his expertise to a new challenge and push the boundaries of what SAMPLE's Fine Beer could be.
"For me it was extremely refreshing to work using beer as the medium," Whearty said.
"Quite often I think beer is seen as something that is only meant to be consumed as it is, and it's not meant to be adapted in any way beyond its original form. These modifiers that we've developed shows that beer is actually very versatile and altering its original state can be quite rewarding."