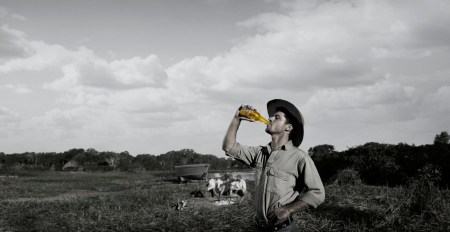 A record-breaking launch volume has seen Iron Jack become Australia's biggest beer launch of the last decade, Lion has announced.
Since its launch in September 2017, Iron Jack has sold over 15 million litres, more volume over the same period than established beer brands like Crown Lager, Stella Artois and James Squire 150 Lashes – according to data from market research company IRI.
"When we launched Iron Jack, we wanted to make a beer for hard working, down to earth Aussie blokes," says Lion's Contemporary Portfolio Manager Amy Darvill. "Blokes who love their dogs and the outdoors. Their initial reaction to the beer has been really encouraging."
According to Lion, after the same amount of time in market, more than twice as many consumers have trialled Iron Jack as Great Northern Super Crisp, which Darvill says is a direct result of where the brand has focused its investment.
"We made an early decision to make sure we supported our customers with good trial mechanics to get the beer in people's hands, because we know once this happens the beer stands up on its own."
Darvill says Lion has doubled the media spend behind Iron Jack in order to further drive awareness of the brand.
"We've had a really great launch but we know it's only early days and we need to keep up the positive momentum. Our original media strategy was to start regional and work our way in towards metro areas. But given the strong start we've significantly increased our media spend to include all capital cities, as well as still supporting regional areas."
Iron Jack will have one of the largest media spends of any beer in the country in 2018 – comprised of a large scale TV, Radio and Billboard campaign which began in March and is centred around the beer's message of 'Thirst Crushing Refreshment'.