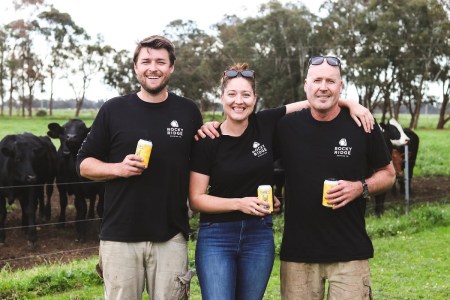 Rocky Ridge Brewing have always set out to make planet friendly beer but they've just taken "a giant leap forward" in that journey with the arrival of 320 tonnes of Certified Sustainable malt at their brewery farm in WA's south west that was locally grown and malted.
The Jindong brewers, who are committed to Net Zero emissions from brewing process by 2025, said in a recent blog post they now estimate a saving of more than 70 tonnes of CO₂-equivalent emissions per year thanks to the collaboration between themselves, Tolga Farm in Kulin, Certified Sustainable, ingredients supply company Bintani, Joe White Maltings and WA grain growers' cooperative CBH Group.
The journey to receiving the first shipment of single-origin, regeneratively grown, low-input local malt began back in 2021 when Rocky Ridge co-founders Hamish Coates and Mel Holland and Tolga Farm barley growers Brendan and Gab Savage set about resurrecting a fragmented supply chain so local, sustainable barley could end up in Rocky Ridge beers.
Rocky Ridge said Bintani co-CEOs Phil and Dale Meddings then embraced the vision and assisted in having their affiliate Joe White Maltings get the dream over the line.
The collaborative effort means it's the first time local, family-farmed barley from the WA Wheatbelt was whole batch malted in Perth on a commercial scale. It's also seen Rocky Ridge, Tolga Farm and Bintani all achieve Certified Sustainable accreditation "to ensure transparency and independent validation of (the) project". Rocky Ridge are now the first Australian brewery to achieve both Certified Sustainable accreditation and be 100 per cent Carbon Neutral for all their scope 1, 2 and 3 greenhouse gas emissions.
"This milestone represents a giant leap forward in reducing our carbon footprint at Rocky Ridge.
"Together we sought to highlight the importance of local provenance and community to showcase a commitment to quality produce. Local barley growers, local maltsters, local distributors, and local craft beer producers, working together with a shared passion to promote sustainable agricultural and brewing practices, to encourage better ingredient sourcing across our industry, and to prove that doing the right thing does not mean compromising on quality."
Certified Sustainable was founded in 2014 to give Australian growers the framework to rebuild soil health, improve the natural environment and ecosystem. Barley with its stamp of approval delivers an 80 per cent reduction in emissions compared to conventionally farmed products.
Since launching in 2017 Rocky Ridge have focussed on minimising the impact their beer-making has on the environment and incorporate the likes of a CO₂ recovery plant, waste water recycling and a significant solar system at their Jindong facility. It's come at no cost to the quality of their output either having been judged the best in the west the last two years running with their Perth Royal Beer Awards Champion Beer and Champion Large Brewery trophies in 2022 and 2023.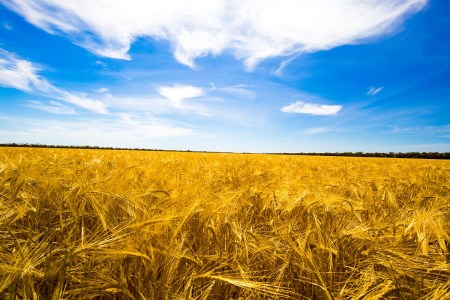 In an interview with Grain Central, Certified Sustainable's managing director Ash Truscott said low-emissions grain is equally prized by breweries with net zero carbon targets as it is by discerning consumers.
"We've got a drive to build the brand and have positive change through the supply chain from the farm to the product, and brewing is a really good example," he said. "(Breweries) need certification through the farm, and the malting facility and distributor as well.
"The market's significantly changed with the millennials, and they definitely shop differently to the baby boomers."
The success story in the west is being matched on the east coast of Australia as well with the announcement Joe White Malting's have selected Certified Sustainable barley from Pearse Family Farms in Donald, Victoria as its Signature Malt for 2023.
Joe White Maltings' key account manager Daniel Baillon said: "We know there's demand from customers for more sustainable ingredients, so we're delighted to be able to offer Certified Sustainable grain under the Signature Malt banner for the first time".
Bintani's co-CEO Dale Meddings added: "We very quickly honed in on barley as the area where we could have the greatest impact on emissions as an ingredients supplier.
"Even pre-maltings, barley farming is a significant contributor to the emissions profile of a beer, so it was the obvious place for us to focus our efforts."