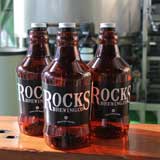 Always the innovators, Rocks Brewing Co has announced the launch of Australia's first-ever PET growlers. The custom-manufactured growlers are made from 100% recyclable materials, and are aimed at tackling one of the biggest problems with re-useable growlers.
"There has always been issues with reusable growler systems," Head Brewer, Scott Morgan says. "People don't always sterilise them properly because they don't realise that even the tiniest amount of bacteria or stale beer left in a growler can infect the fresh beer and spoil the lot."
Designed to look like traditional brown glass growler bottles, the PET version is a lot lighter than glass, which makes transportation home from the pub a much easier prospect – and you're far less likely to smash it, should the unthinkable happen on the way home.
Even better, the PET growlers also negate the need for new fans to place a down payment on a bottle, and repeat customers don't have to remember to always have their growler with them. The disposable bottles also make it easier to pick up multiple brews in multiple growlers for parties and events, without breaking the bank.
"If you're in the Lord Raglan for example and you try something new off a rotating tap for the weekend – or we've got a new limited edition on at the Brewery Bar you can now grab a PET growler to go," says Morgan. "You don't have to pay for a new one if you don't have yours on hand, and there's no need to return it. Simply chuck it in the recycling bin and off you go."
Prices for growlers start at $20 for Rocks Brewing core range beers. For details enquire at the venues.