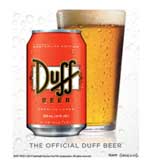 Simpsons fans are in for a proper treat – Duff Beer is going to flow from BWS and Dan Murphy's bottleshops from 28 May, 2014. The release marks the official launch of the until-now fictional brand, popularised by Homer Simpson and the rest of the residents of Springfield.
"But we've seen Duff Beer before!", we hear you cry – as well you may, since it has appeared in a variety of cans and guises over the years, all of which the creators of this release tell us, were "counterfeits and imitations".
To celebrate the official, the first floor of Sydney's Woolloomooloo Bay Hotel will be transformed into a replica of Moe's Tavern, where punters will not only get the chance to try Duff on tap, but also treat themselves to a selection of Springfield's favourite foods, including Krusty Burgers, Duffalo Wings and Lard Lad donuts.
"The ability to work on delivering a brand as iconic as Duff has been nothing short of excellent. Working with a team in selecting the brewery, developing the brew and being involved in helping to bring this great beer to consumers has been a very rewarding experience" said Ian Kingham, on behalf of the ALH Group. "I'm confident this will have broad appeal in the Australian market, and the good thing is its a great drinking beer we can all be proud of."
Duff Beer is described as a Premium Lager, and will be available in 355ml cans, with an RRP of $17 per six pack, and $45 / case.