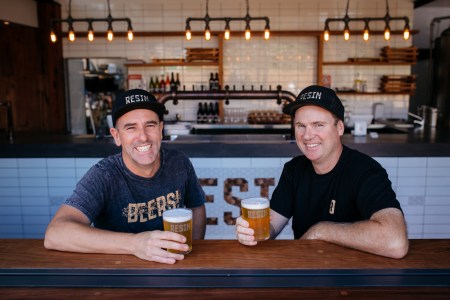 Resin Brewing's labour of love has been recognised with the brewery being awarded The National Trust's Adaptive Reuse Award (NSW) for their Bulli brewpub.
Opened earlier this year after a $2 million planning and construction phase, Resin's brewpub has respectfully breathed new life into the heritage listed Bulli Railway Guesthouse building that was built in 1887 whilst maintaining its position as a landmark to the region's local history.
After a long and storied life, where it was at one point destined for demolition and left derelict to become a home to various nefarious types, Resin's co-founders Brendan Dowd and Steven House bought the guesthouse in 2017 and, after council planning consent came through, set about restoring the building to its original pride. The resultant brewpub now perfectly encapsulates what the award looks to recognise – projects that complement and utilise existing heritage fabric whilst protecting the heritage integrity.
"We fell madly in love with the building" Brendan and Steve said, who were no doubt aware of the task ahead after working together for over 20 years prior as environmental consultants.
Such was their dedication to the cause, every termite-infested timber was replaced, the decaying render and lead paint was removed, graffiti was stripped from the walls to reveal the original Bulli bricks beneath, while the crumbling arched fireplaces were repaired and the mortar was repointed.
"The descendants of the house are always given a grand tour and very few leave with dry eyes, such is their happiness to see the building restored," Steve said.
Brendan and Steve said they couldn't have done it without the help of their architect and heritage consultant Geoff Borst, their builder Mark Tarasenko of Eastbourne Builders, and their "wonderful" wives Natalie and Belinda "for all the work they have done and their constant support".
Huge thanks were also expressed to Wollongong Council's planning staff and their heritage officers for their support.