While there has been an outpouring of support from a well organised beer industry in Australia throughout 2020 the cider industry has been less vocal but no less affected by the economic downturn wrought by COVID-19. Even before the pandemic hit on-premise sales, large parts of the apple and pear growing regions had suffered due to the impact of last year's drought and then the Summer bush fires. But now, as things appear to be turning around for the better, the industry's peak body is looking to further boost the cause of its members with the release of a new guide that aims to raise awareness of Australian craft cider both here and in emerging overseas markets as we approach the key cider drinking seasons.
As part of a $500,000 Federal Government investment, Cider Australia has released The Australian Cider Guide written by award-winning drinks writer Max Allen. The guide looks to reinvigorate consumer awareness, knowledge and enjoyment of locally produced craft ciders via detailing the category's history in Australia, the key ingredients that go in to making it as well as the likes of flavour differences and tips on food pairing.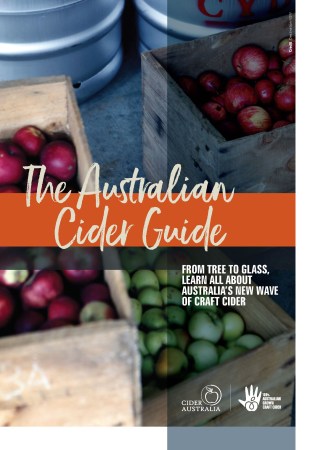 Download a copy of The Australian Cider Guide here.
Its publication follows the 2018 introduction of the '100% Australian Grown' trust mark, which enables consumers to identify craft ciders made from Australian grown apples and pears and help promote the concept of supporting local businesses.
Cider Australia president and Willie Smith's Cider Makers co-founder Sam Reid said that while this year had come with its obvious challenges for cider producers the "tide was turning" as new markets and domestic growth emerged.
"We are starting to see a craft cider category exist for the first time in Australia," he said.
"We've seen the 100% Australian Grown trust mark develop… and as tough as it's been we've seen people shift towards local products and that is a huge positive.
"People are starting to pay more attention to where stuff comes from and because China is where a lot of the concentrate that goes into mainstream cider originates, they might even further question their choices a bit more now.
"We were originally going to target China with this guide but we have probably switched our focus to be more Japanese focussed as we've seen interest in Australian-grown cider become stronger there."
Even though the cider category has been in decline in Australia for the last three years, the amount produced from Australian grown apples has been increasing in conjunction with growing awareness from the drinking population.
"While the export market is very important to the Australian cider industry, the potential to expand locally is fantastic and we sense huge opportunity within our own shores," Mr Reid said.
"Australia is producing world class craft cider and The Australian Cider Guide will help Cider Australia promote the diversity of Australian ciders and the regions in which they're produced."