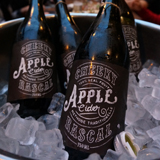 Boutique cider makers Rebello, the team behind Cheeky Rascal cider, have a new piece of bling for the trophy room, after taking a gold medal at the Royal Melbourne Fine Food Awards for their Methode Traditionelle Cider.
It's not the first award for Rebello, but it's a particularly sweet moment for the team, as this was their first crack at this particular style of cider, which Rebello CEO Ruth Gallace describes as a product with "fine champagne like bubbles, which is semi-dry and delicate".
"We had never attempted anything like this before, so to be awarded gold by the Royal Melbourne Fine Food Awards against other very established cider houses is very rewarding," Ruth said.
The initial bottling was limited to only 1000 units, and there are a handful of bottles left, according to the Rebello team, who say that the bulk of the initial release was snapped up by hotels and chefs shortly after the launch.
For more information – or to find a bottle for yourself – head to the Cheeky Rascal website.