4 March 2011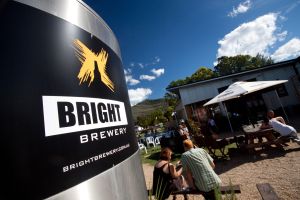 Bright Brewery's new Brewer's Choice beer starts pouring Sunday 6th March, 2pm.
The Raspberry Lambic is brewed from locally grown raspberries using a special Belgian lambic fermentation.
The first thing you notice as the beer is poured from the tap is the eye-catching red-pink colour, derived from 60kg of whole raspberries added mid-fermentation.
The distinct berry aroma leads into a tart upfront flavour which is instantly recognisable as raspberry. The tartness is well balanced with the fruit that marks out the lambic style.
The Lambic beer style, rarely brewed outside Belgium, harnesses aberrant yeast cultures to create a surprisingly refreshing tartness to the beer.
Three years since Bright Brewery last made a Raspberry Lambic in 2008, the brewers still receive regular requests for the beer.
Bright Brewery's owner and founder, Scott Brandon, said today, "The buzz about our raspberry lambic is still going after 3 years, and with this year's bumper berry crop here in the valley the time seemed right to brew it again. Cheers to Lorraine, Colin and Ebony Lieta at Bright Berry Farms."
Beyond our raspberry lambic The Brewer's Choice beer range is an opportunity for Bright Brewery's brewers to go wild. So this year Scott also created a special trial batch.
Scott said, "When I was out mountain biking near home I noticed how amazing the blackberries are this year. They're a weed, but a delicious one. So the kids and I picked enough blackberries to make a small trial batch of Blackberry Lambic. Early tastings are showing something like a beautiful rose champagne."
Bright Brewery is considering a big blackberry pick next year, open to the public, to gather enough blackberries for a full brew.
Availability:
On tap at Bright Brewery
121 Great Alpine Road
Bright VIC
Federation Square Microbrewery Showcase, Melbourne
4.30-8pm Wednesday 16th & Thursday 17th March
By request only – come and ask for it specifically.