10 March 2011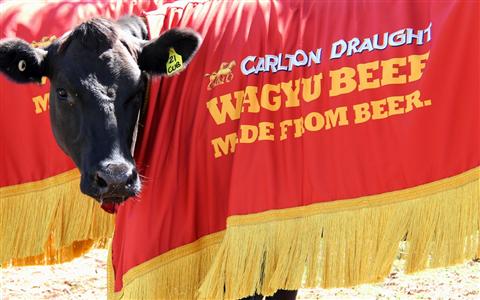 This autumn Carlton Draught is taking an Aussie pub tradition to a whole new level.
Launched today, the Carlton Draught Massive Meat Wheel promotion gives Aussies the chance to go for a spin on the world's tallest cantilevered observation wheel, the EDF Energy London Eye, competing to win $100,000 and a meat tray.
Sixteen finalists will win a trip to London where they will step aboard the London Eye, competing for the grand prize of $100,000 and a limited edition Carlton Draught meat tray featuring premium Wagyu Beef, made from beer.*
"The Carlton Draught Massive Meat Wheel takes a classic Aussie tradition, slows it down and makes it huge," said Vincent Ruiu, Carlton Group Marketing Manager. "We'll watch the London Eye towering over the famous city's skyline, as it slowly spins and one lucky Carlton Draught fan gets their hands on the grand cash prize."
Australians can enter the Massive Meat Wheel promotion by purchasing Carlton Draught from participating outlets and venues and using the unique code found inside the specially marked packs or on the game card. People can also get involved by purchasing a specially marked 24-pack of Carlton Draught and entering a competition held on Channel 9's The AFL Footy Show.
To celebrate, Carlton Draught is partnering with Jac Wagyu, one of Australia's premium Wagyu Beef farms, to create the world's greatest meat tray. The tray features specially developed beef, reared on the quality hops and malted barley used to brew Carlton Draught to deliver a unique flavour profile.
To produce the limited edition Carlton Draught Wagyu Beef, the brand has enlisted Australian farmer and Jac Wagyu owner, Jason Lewis, to rear twenty head of cattle on a special feeding program, providing the herd with ten tonnes of malted barley and two tonnes of natural hops.
The result of this program is a modern twist on a classic Australian pub tradition of beer and meat trays. However Carlton Draught has replaced the old style trays, with their fatty sausages and cheap chops, with Australia's finest Wagyu beef.
"Carlton Draught and pub meat trays are both classic Aussie traditions," continues Vincent Ruiu. "The only way we could make this better was to combine Australia's favourite draught beer with Australia's finest meat trays."
Commenting on his cattle Jason said; "The twenty cattle on the Carlton Draught feeding program are having a fine dining experience. The natural hops and malted barley from Carlton Draught are of the highest quality and our cattle have never been happier."
*Obviously Beef isn't made from beer. Rather the Wagyu Beef will be infused with the natural hops and malted barley ingredients that make Carlton Draught