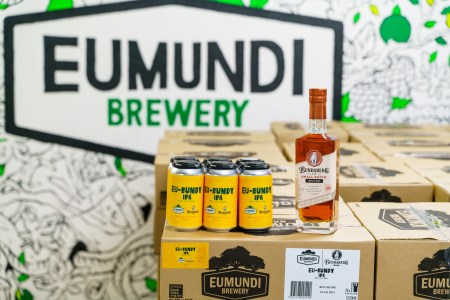 With its release date coming just days before rugby league's State of Origin Game 3, Queensland supporters may have just found their perfect celebration tipple should they go on and win the series.
The new 'Eu-Bundy IPA' (6%) – that launches in bars and hotels throughout Queensland in mid November – is the result of a collaboration between the Eumundi Brewery and Bundaberg Rum. It's a classic West Coast IPA with an added touch of Bundaberg Small Batch Spiced Rum and locally sourced ginger that gives it a quintessential Queensland twist.
It's eminently drinkable and somewhat like a beer's version of a single shot dark 'n stormy that wouldn't hurt being poured over ice with a wedge of lime. There's no cloying sweetness, as you might expect from the added rum, and instead the citrus notes and good bittering to finish mean this is wholly crisp and refreshing.
The good dosing of Citra lets you know it's still very much in the IPA territory and those hop aromas are complemented well by the spiciness of the rum's clove and cinnamon notes coupled with the zing of the ginger.
"While beer and rum are from very different drink spheres, we wanted to create some magic by bringing the two together in one glass. I felt confident it would work, and I'm happy to say that taste tests tell us the union of flavours is indeed a winner," Eumundi's head brewer Chris Sheehan said.
Eu-Bundy launches at The Imperial Hotel Eumundi on Saturday 14 November from 3 – 5pm, with 40 guest spots up for grabs via an online competition that kicks off today. For details, visit their Facebook page here.
It will also be on tap from mid-November at a number of hotels and bars throughout Queensland. A limited number of cans of Eu-Bundy IPA will also be available for sale from the Bundaberg Rum Distillery and through The Imperial Hotel Eumundi from Sunday 15 November.
Meanwhile, fellow Lion-stable brewery Malt Shovel Brewers will this Friday unveil their latest limited release beer – The Divorce Passionfruit Semi-Sour Ale (4.6%).
Gorgeous in the glass, with a slight haze and fluffy, vivid white persistent head, Galaxy's calling cards are on the nose with big passionfruit whiffs and tropical notes. A gentle carbonation and mild souring enable it to hit the mid palate with ease as the passionfruit really comes to the party with a tight, clean and crisp finish.