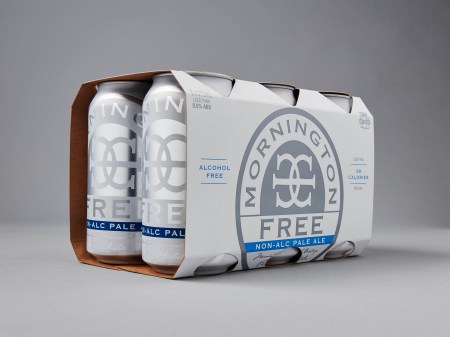 Mornington Peninsula Brewery have launched a non-alcoholic beer called Mornington Free Pale Ale – the brand's first foray into the swiftly growing drinks category.
Following in the footsteps of multiple other Australian craft breweries this year alone, Mornington Free's arrival comes as the demand for non-alcoholic craft beer gathers pace in line with a move to more lifestyle friendly drink choices.
In their media release, Tribe Breweries, that acquired Mornington Peninsula Brewery in 2018, cited Nielsen research that showed "nearly half (46 per cent) of Australian men are consuming less alcohol, and this is observed predominantly in those over 40. When exploring the reasons behind the reduction in alcohol consumption, 32 per cent of beer drinkers have revealed that they simply want to live a healthier lifestyle".
Tribe's Head of Innovation Roland Thiemann told Beer & Brewer that combining a craft brewery's talents with the trend towards lower or non alcoholic beers made perfect sense.
"We think craft has an advantage over mainstream (non-alcoholic) lagers because what they do is they strip out the alcohol altogether whereas we have brewed it to be less than 0.5% and have found a way to ferment it a little bit to get more flavour and esters going," he said.
"It's a really refreshing liquid, a little fruity on the nose, so it's a really good alternative, if you can't drink, or you choose not to drink, to your regular pale ale.
"People want to be more health conscious, and they are thinking about the amount of alcohol they want to consume. So a liquid that allows you to still experience the good aspects of a beer without the bad, it exactly fits this time."
Co-founder and CEO of Tribe Breweries Anton Szpitalak said: "The development and introduction of low-no alcohol beers into our range of brands has been a top priority for Tribe over the past year. Mornington Peninsula Brewery has a very strong heritage and reputation in the craft space, making it an ideal collaboration as we explore this new market.
"With more people wanting to reduce their alcohol consumption, the market has widened completely. Our focus has thus been to work hard with the team at Mornington to ensure that our drop is not just another 'alcohol-free' beer, but actually tastes, feels and drinks as sessionably as any standard pale ale."
Tribe said Mornington Free is brewed using a unique recipe and fermented with a special yeast, where instead of producing regular alcohol it produces esters, "which are extremely important in giving beer its distinctive taste and mouthfeel".
Mornington Free is now available to purchase at a range of independent retailers. For more information and list of stockists, head here.