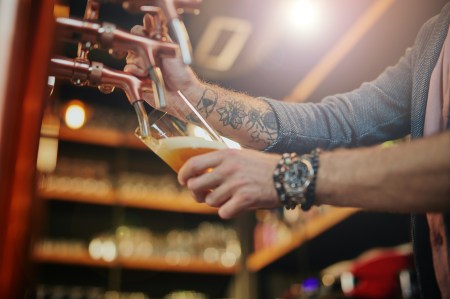 We're all doing our best, working as hard as we can right now, to get the freshest beer on tap."

Shaya Rubinstein, Urban Alley, Docklands
Melburnians, spare a thought for the people behind that tap beer you are so lovingly holding right now. As you rush back to the pubs and brewpubs of your great city some of the most in demand Victorian breweries are very busy pivoting – again. This time they are shifting from the packaged beers that got them (and you) through lockdown and are diverting volume back into kegs. While they might be run off their feet, they're pretty happy about it at the same time as well.
(Coupled with today's news the $251 million Licensed Hospitality Venue Fund is open for those who operate under a producer's licence, it's good cheers all round for VIC brewers).
Justin Corbitt, head brewer at Deeds Brewing in Glen Iris, said "the direct and immediate impact" of restrictions lifting in Melbourne on their production schedule had been "fearsome".
"Everybody gets the message that the bars are now open and what happens next? We start getting all these calls from the bars saying 'we want your kegs' and 'we want immediate delivery of your kegs'.

"These kegs they are all talking about don't necessarily exist right now! It's a tricky balance."
He said Deeds did have kegs going to interstate venues during Melbourne's lockdown period and they had started to increase allocation towards them in recent weeks in anticipation of restrictions easing.
"But it's not been anywhere near enough in terms of what we think the impact is going to be like – based on the calls we received on Tuesday," he said.
"But we'll do our best to fill demand. It's exciting times putting beer in kegs again. We reckon it's time to say 'let's go the Melbourne economy'."
"Anxiety" was the word Blake Bowden, Jetty Road's head brewer, used to explain his feelings, now the phone was ringing with Melbourne bars wanting kegs and having to service their own Dromana brewpub as it readies to open tomorrow.
"I've been barely keeping my head above water as it is as we've been on the hunt for another brewer," Blake said.
"We had been forward-looking a bit and I had pulled some kegs in the last couple of weeks. We are in a position of having some stock so I guess it's now a case of waiting and seeing what the demand is like.
"No complaints here though. There's nothing better than knowing that we can head back to the pub and we can get our own venue open again. At the end of the day, despite how busy it is, I'm just so stoked."
For Shaya Rubinstein, head brewer at Urban Alley in Docklands, the feelings are much the same as Blake's. With a knee brace on and knee surgery booked in for this coming Monday it's been tough already without the current scramble to brew enough, and in time, to fill the demand for keg beer. Urban Alley will reopen their brewpub on Thursday 5 November.
"We've double brewed today, and that will make four separate new brews for just this week alone. We've ramped everything up with super speed – as quickly as we can without compromising on quality of course," he said.
"We've got a bunch of new beers now, that we came out with over these past few months, and they've all been really good for us. But they're only in cans so we're now in a mad rush to brew them again for keg.
"But what a feeling to be in this position. I didn't brew anything from March 11 to about mid June – not a drop. It's been a tough time. It's been a tough time on all of us, on our families. But we went balls to the wall since June, putting out a bunch of new beers, and we're all in high spirits now. We're all doing our best, working as hard as we can right now, to get the freshest beer on tap."
(On a side note from Urban Alley, gin made in collaboration with Queenscliff Distillery, from just over 100 kegs of their beer that was destined for the drain, will be available for purchase in a few weeks.)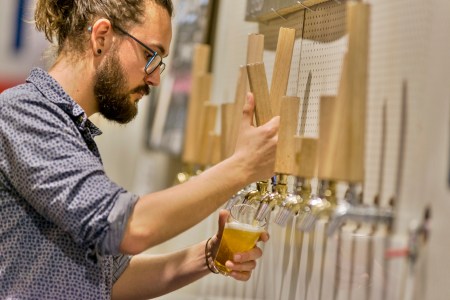 Steven Germain, director at Tallboy and Moose in Preston, said it had been "hectic" since Premier Daniel Andrews' announcement that brewpubs like his could open again under capacity restrictions.
As well as preparing to open their doors to a "very keen" public tomorrow from 5pm, he said making the "pivot" to fulfil keg orders was now keeping the team busy – many of whom had been on reduced hours, but now, thanks to restrictions lifting, are all back fulltime.
"We have been inundated with calls, emails and social media enquiries for bookings for the brewpub but now that's been added to with lots of calls from the local bars and pubs wanting kegs," Steven said.
"It's crazy busy. But we'll cope. We've got a very flexible team and system and at this point in time we've been able to supply everyone that wants our kegs.
"We want to support the venues that have been supporting us for quite a few years. It's a really exciting feeling, so uplifting, to be in this position."
Todd Barac, Dainton Beer's national sales manager, said that while "95 per cent" of their sales pre-COVID had been packaged beer anyway, they were still rushing to fill the keg orders that were coming in from expectant Melbourne bars and to supply their Carrum Downs Taphouse.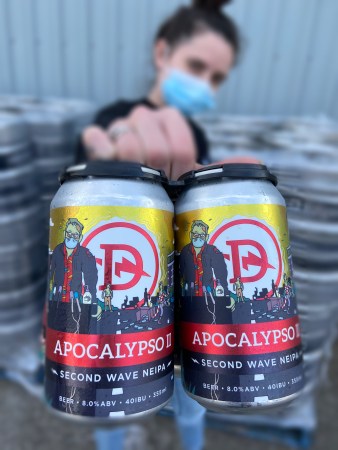 "We're experiencing a rush that's for sure and right now it's a matter of getting that balance right between the freshness and the supply and demand. It's been good fun mate, that's for sure," Todd said.
And as perfect timing would have it, Dainton released a beer this week that many in Melbourne would consider to be their ultimate "get on the beers" beer now restrictions have lifted.
Their Apocalypso II Second Wave NEIPA features a zombified Victorian Premier on the can art and is the follow up to their Apocalypso Zombie Tiki Imperial NEIPA release earlier this year.
"The timing was pretty good. We didn't know when the restrictions were going to end but we did want to have a bit of a laugh at our own expense when the second wave came. If you can't laugh about what we've all been through, then you'd cry."
From all of us here at Beer & Brewer in Sydney, cheers to you Melbourne and to wider Victoria in general. This industry is all the better for your presence and it makes us thoroughly happy, as you no doubt are, to see the smiling faces with pints in hand.