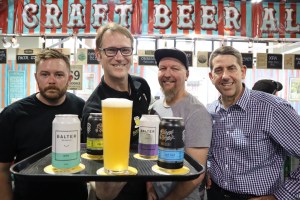 The Palaszczuk Government has launched Australia's first craft brewing strategy to support the industry's rapid expansion.
"Queensland manufacturers contribute significantly to the state's growing economy, creating direct and indirect jobs, attracting private sector investment and facilitating innovation, and that includes manufacturers of craft beer and cider," comments Cameron Dick, the minister for state development, manufacturing, infrastructure and planning.
"Over the last five years, craft brewing has been the fastest growing segment of the beer market – a trend that is continuing. Earlier this year, the Queensland independent brewing industry asked for our support to achieve their fullest potential, and we have taken their feedback on board.
"We have worked with key stakeholders from across industry and government departments to understand the industry's challenges and opportunities. We acknowledge this is just the start, but it's a positive step forward to maximise the sector's growth."
Craft beer production in Queensland 90 odd independent craft breweries is estimated to be worth around $62 million a year, and is still experiencing growth. The state's market share of the sector in Australia has also risen by about 2.8 per cent from 2016 to 2017. The industry also employs over 1,700 people.
"There are now around 90 independent craft brewers across the state, from Port Douglas in the north to Burleigh Heads in the south," adds Dick. "This growth is being driven by shifts in consumer preferences, with innovative product lines contributing to increased demand for craft beer.
Nine actions have been identified to position the industry to capitalise on the opportunities available, including including investigating the establishment of a 'brewlab' facility in Queensland, streamlining liquor licencing applications and promoting Queensland's craft brewing capabilities and tourism opportunities.
"The burgeoning craft beer industry has real potential to generate a similar tourist boom as the wine industry witnessed over 30 years ago," says Dick. "Beer tourism is attractive for visitors, providing an insight in to the character of the destination. Many of our local craft brewers are winning national and international awards for their produce and have already put Queensland on the map.
"We want to see Queensland's craft brewing industry continue to shine and draw more visitors to our state."
Queensland craft brewery Ballistic Beer Co has expressed optimism for the future of craft brewing in the state.
"We attribute our success to quality product and creating a sense of community through our brewpub model," comments David Kitchen, founder and managing director of Ballistic Beer Co. "We believe there is huge potential for our independent craft breweries to create jobs and be positive players within our local areas and regions, creating vibrant, community hubs.  The government's assistance can help us realise that potential.
"The strategy focuses on three key areas including investing in people and infrastructure, improving access to markets, and ensuring appropriate regulation and planning is in place to facilitate a supportive environment.
"With the release of the Queensland Craft Brewing Strategy, the Queensland Government has taken the first steps to supporting an industry that is generating jobs and growth within the state, opening up tourism opportunities and growing exports.
"The streamlining of licensing and planning processes will greatly assist the growth of the industry when implemented. Development of a tertiary brewing course will also ensure the Queensland craft beer industry can continue to provide award-winning beers as it grows.  As a growth sector, we look forward to the implementation of the Strategy with a great deal of enthusiasm and support."
"With its focus on investing in the skills of the Queenslanders who brew your favourite beer, driving access to new markets for our unique products and clearing the path to growth through regulatory streamlining, the Strategy establishes a strong platform," adds Alexis Roitman, CEO of the Independent Brewers Association (IBA). "The IBA congratulates the Queensland government on this initiative. We look forward to working together to realise the industry's potential."