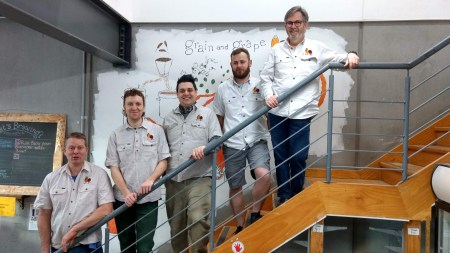 Grain & Grape in Yarraville, Victoria, has won Best Homebrew Shop in the Beer & Brewer Awards for two years running.
Its founder John Preston started brewing with his friend Laurie Cahir back in 1987, opening a homebrew shop in Edithvale, Melbourne, three years later.
In 2000, Cahir and Preston split the business, with Preston moving to a warehouse in Yarraville. In 2008, together with a group of like-minded individuals, Preston organised the inaugural Australian National Homebrew Conference. Throughout his time in homebrewing, Preston has created new products, expanded his sites and product ranges, and followed the homebrewing landscape at home and abroad with a keen eye. We sat down for a chat with the man himself.
Q: How did you get into homebrewing and why do you love it?
My friend Laurie Cahir and I visited the newly opened Loaded Dog Brewpub in North Fitzroy in 1987 and were amazed by the flavours of the beers they had on tap there. I remember a Hacker Pschorr Weizen that really blew me away. We were brewing within a week.
I've always loved cooking and also beer, so when I became aware of the concept of homebrewing everything clicked for me. I definitely come at brewing from a flavour and cooking angle. I did a Humanities degree, so Science and building things are not really my strong suit.
Q: You have been voted Best Homebrew Shop two years in a row in the Beer & Brewer Awards. To what do you attribute your success?
The single most important thing is our staff. In employing people I've always tried to choose the most enthusiastic and knowledgeable people with the best communications skills and a range of interests.
Brewing can be approached from many different angles: as a recipe, flavour and cooking hobby; as building and making stuff; and as a nerdy science project. It is usually is a combination of all of these. We have staff who have passions in all of these areas.
In the business we always try to emphasise helping people to make better beer. That does not mean shoving opinions down people's throats. We try not to bamboozle, but to be open and honest and to be as inclusive as possible. Of course, we can always be nerdy on cue.
We are proud and enthusiastic supporters of the sorts of events that really make the Australian and Melbourne beer and brewing scene what it is. We don't want to be just a supplier of things: we see ourselves as being capable of much more than that and contributing to Good Beer Week – especially our System Wars event, ANHC and local club events and competitions – is an important part of what we do.
Q: What is the most rewarding part of your job? 
I don't serve in the shop much anymore, but I do take lots of calls and hear and see what is going on in the shop all day. It's the general bustle, the good-natured banter and interaction between customers and staff discussing their passion, relating a recent brewing story, problem, recipe or technique. We learn lots from customers too.
I love the events. System Wars, ANHC our demos or GABS. We have a monthly staff outing to a Melbourne Craft Brewery and that is always fun.
Q: How has homebrewing changed as a hobby in recent years?
While the variety of ingredients available to the homebrewer has ballooned in the last decade or so, arguably the greatest change to our hobby has come from technology. The ability for people to connect over the internet is massive and cannot be over-rated, but the technological tools available to the homebrewer of today are amazing.
Computer software such as BeerSmith allows us to create, store and share recipes that are customised to our individual processes and equipment. The marriage of low-cost electrical devices and control systems make temperature control cheap and easy, so that wort preparation and fermentation steps can be automatically managed the same way every time.
Tools such as the Tilt Hydrometer – which provides the ability to monitor fermentation progress in real-time from anywhere on the planet – are removing some of the routine drudgery that few brewers relish.
As the technology has changed and ingredients become more plentiful and the hobby grown in popularity, economies of scale have brought other benefits.
Q: What's on the horizon for Grain & Grape?
The upcoming Blobfish Beer Festival, organised by our friends at Hop Nation, is getting us very excited. Farmhouse and sour beers will be the focus and we'll have a stand and will be presenting.
We've been working on a website redesign for the past few months and that is very close to release. Along with improvements in the look and feel and usability, we are incorporating new spaces for heaps of advice, techniques and recipes.
We're famous for our Saturday brewing sessions where experienced brewers share their knowledge and insights. But we're working with a number of craft breweries to introduce a new style of presentation from time to time. First cab off the rank is our good friend Brendan O'Sullivan from 3Ravens.
Q: What is the most useful piece of advice you could give a homebrewer?
Hang out with other brewers. The camaraderie is great and the multiplier effect of different opinions can quickly increase brewing IQ. These can be one on one, via a shop, club, forum or even YouTube or books and magazines. Keep listening, learning and tasting.