Whether you are new to homebrewing or are a veteran, the benefits of using Coopers' popular Brew Kit and DIY Beer Brewing Ingredients cannot be understated.
Family brewery Coopers has been making these products and equipment for more than 40 years, lending all the skills of a modern brewery to refining and improving them for the brewing public. Their products are the most popular of their kind in the world and Coopers is the biggest supplier of DIY brewing products globally. There is likely not a homebrewer or professional brewer in Australia that has not used Coopers' equipment and ingredients. So what is available?
"Our Brew Kit uses a unique, patented fermenter and comes with everything needed to make 23 litres of great tasting beers," says Scott Harris, divisional manager for brewing products at Coopers. "With over 150 years of brewing history in every can, our Brewing Extracts are made from the finest Australian two-row barley and hop additions, and are produced under the supervision of our Master Brewers. Using low temperature evaporation to ensure a clean malt taste and colour, we produce premium products for the homebrewer."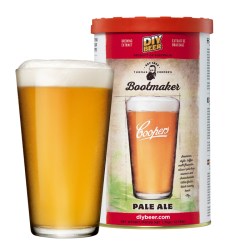 Coopers is one of Australia's largest and most venerable breweries, with a team of highly qualified experts, as well as some brewing nobility, so the ingredients and equipment that they create come stamped with the guarantees that stems from such heritage.
"Our products are brewed at Coopers Brewery under the supervision of two international Master Brewers – Dr Tim Cooper (president of the Institute of Brewers and Distillers) and Nick Sterenberg – so we know a thing or two about beer," explains Harris. "Also on the team and looking after our 150-year-old yeast strain, is brewing manager and fermentation expert Dr Jon Meneses, who actually holds a PhD in yeast development. It's this combined knowledge that's behind every Coopers DIY Beer product.
Regardless of your brewing experience, Coopers DIY Beer products have an important role to play in your brewing journey. The range of beers that the assorted Brewing Extracts can create is vast, while the yeasts have been specifically created to allow brewers to consistently make great beer without fuss. In effect, you are getting all the ingredients and knowledge of a professional brewing outfit delivered to your doorstep, giving you the tools to create a beer the way you want to.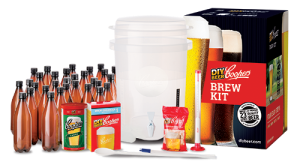 "With more than 20 brewing extracts in the core range brewers can create everything from bright crisp lagers to darker beers and seriously crafty IPAs," says Harris. "But our brewing extracts are just the beginning; our recipe library has almost 200 recipe variations, we have a range of specifically developed adjuncts and our un-hopped Malt Extracts are the perfect base for recipe development and experimentation.
"Each of our brewing extracts includes a specifically blended yeast to create true to character, premium, beer. The process can be as simple as pitching the supplied yeast, with the brewing extract and recommended adjunct then following fermentation instructions, or the brewer can experiment with hop and grain additions to make a brew unique to them. Once fermentation is complete carbonation drops are used in bottle to create natural conditioning (carbonation), then it's time to wait and in 10 days you'll be cracking your first cold beer!"
What more could you ask for?
To find out more about Coopers DIY Brewing Kits, visit the website here.