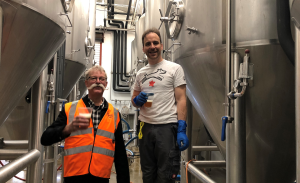 Prancing Pony Brewing has combined with award-winning brewery Purity Brewing Company to launch its Hopwork Orange beer in the UK.
Purity is located on a working farm in the heart of Warwickshire and has its own water treatment eco system. Prancing Pony CEO Corinna Steeb travelled with Frank Samson, Prancing Pony's co-founder and head brewer, to Warwickshire in October 2018 to meet Paul Halsey, CEO and co-founder of Purity, and head brewer Florent Vialan.
"Before visiting the UK, we had already agreed with Purity that we would make a beer together," says Samson."The best aspect of getting Purity to brew our Hopwork Orange on-site in the UK is that the beer will hit the market super fresh. There are no long periods on ships and the potential of spoilage. It reduces food miles while still bringing new beer into new markets."
"As our first collaboration together we decided to brew a batch of Hopwork Orange, an American pale ale hopped with Mandarina Bavaria German hops," says Halsey. "The feedback we received from the trade was phenomenal and, with Frank's approval, we decided to brew a second batch. However, this time the beer was presented in casks. Within four weeks, the beer was sold out."
"Having the same brewing methodology and very similar brewing equipment makes it a bit easier," says Vialan. "As for the rest, it is down to the skills of the brewers."
Prancing Pony has also bottled its first batch of Dizzy Donkey, a naturally cloudy cider. The brewery has had the cider on tap in its brewshed for over a year, and now that it's in bottles, it is possible that the cider will also be canned.
"We receive the apple juice freshly from Ashton Hill Apple orchards in the Adelaide Hills – 100% freshly pressed," says Steeb. "We pasteurise the juice to avoid yeast contamination but that is the only treatment the juice gets.
"The result is a naturally cloudy, semi dry apple cider that tastes like an apple orchard with a distinctive rich, fresh apple aroma and a semi – dry yet fruity palate and it has a super smooth texture."
The brewery is also hosting a collaborative brew-day with Pink Boots on 11 July. Following breakfast, a female brew crew from Pink Boots and Prancing Pony will brew a hoppy amber using Coopers malts, Ellerslie hops and Lallemand yeast exclusively.
Educational sessions will be conducted by Richard Dube from the Seibel Institute and Rachelle Rochechouste from Ellerslie Hops. Proceeds from the sale of these beers will assist with scholarships to women to attend the BrewCon 2019 conference in Melbourne.
Prancing Pony is also on the look-out for a marketer to join its business.