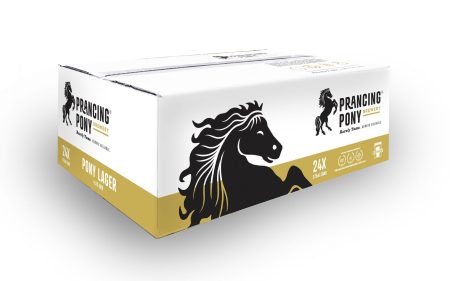 South Australia's Prancing Pony Brewery has joined forces with Zoos SA to highlight conservation programs of species that are endangered or, in the case of the Przewalski's Horse, just a trot away from extinction.
When the Rarely Tame Lager goes on sale this Sunday (August 29) the brewery will donate $10 from every carton sold to assist in the conservation of these endangered wild horses.
The Przewalski's Horse, or P-Horse, is the world's last remaining pure wild horse. Smaller than domestic horses, they have stocky bodies, a thick upright mane and are rarely tame. Originally native to the steppes of Central Asia, this species is endangered and Zoos SA's Monarto Safari Park's herd of pure P-horses are vital for the conservation of the species.
"We didn't know a lot about the P-horse before we chatted with Zoos SA, but the conservation project immediately struck a chord with all of us at the Pony," CEO Corinna Steeb said. "Our philosophies to recycle, reduce and re-use are fundamental in minimising our environmental footprint and so is the conservation of endangered species.
"The project is perfect on many levels. At the Pony we love horses, even more, we love the not so tame ones, and those that have character and fight for survival. And like Monarto Safari Park, the Prancing Pony Brewery is a family friendly venue and we all are massive animal lovers and welcome well behaved pets in our venue."
Stephanie Engelaar, Partnerships Manager at Monarto Safari Park, said: "When we look at partnerships we naturally look at organisations that share our values and align with our philosophy. We are excited that Prancing Pony can help spread the conservation message about the Przewalski's Horse and encourage gift-buyers to snap up some Rarely Tame Lager and see the horses and learn more about them at Monarto Safari Park."
The Rarely Tame Lager will launch at Prancing Pony this Sunday (August 29) from 1pm onwards. Head here to book and keep an eye on their Facebook page for any updates.
This is an edited version of a media release distributed by Prancing Pony.