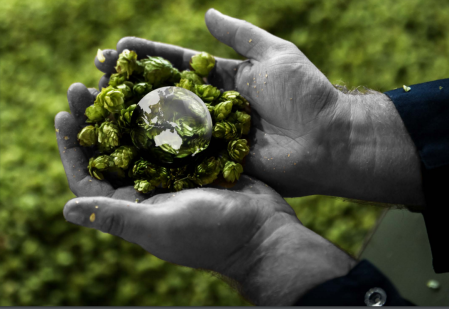 Australia's largest hop grower has made a commitment to a greener future and declared a "new normal" where all their activities will be scrutinised to ensure they underpin a sustainable strategy.
Hop Products Australia (HPA), who along with other regional representatives of BarthHaas became a signatory to the United Nation's Global Compact last year, have published their inaugural sustainability report which outlines the company's sustainable development goals, the steps they'll take to achieve them while also quantifying the carbon intensity of their operations.
"To create meaningful change, everything we think, say and do will come under scrutiny to ensure it fits with the cleaner, greener future we are working toward," managing director Tim Lord said. "We are already incorporating sustainability into our operations, but more is being planned and many innovations still need to occur. It is an enormous task, but I am confident our team can find solutions to ensure our business has a positive impact on people and the planet."
HPA said in a statement: "This is just the beginning of (our) journey towards minimising (our) environmental footprint while simultaneously meeting the demands of (our) brewing customers. This is (our) new normal".
In the report, and guided by the United Nation's 17 Sustainable Development Goals, HPA set out a roadmap for their journey towards sustainability that considers the likes of social responsibility, environmental footprint, responsible sourcing, consumption and production.
The 2017-2020 reporting cycle, where HPA quantified their greenhouse gas emissions for the first time, found emissions have been steadily increasing due to the ongoing expansion of their farming operations in Victoria. While several carbon emission reduction projects were executed, the reductions were not sufficient to offset the emissions output associated with the construction of an additional 300 hectares of hop trellis and the associated infrastructure required to process the yield.
"It is our goal to use this data to take meaningful action to minimise our footprint. This will involve a full life cycle assessment of our hop supply chain in order to target low emission practices," the report stated.
The report also shows how HPA eliminated heavy metals and reduced solvent use in their labs, improved their anti-corruption and whistle-blower policies, and conducted an energy audit of their farms.
HPA's manager of agronomic services Simon Whittock said: "Reduced solvent use in our labs has improved environmental and workplace safety outcomes. HPA's adoption of NIR analytical capability is a novel solution within the hop industry and typifies our commitment to developing sustainable business practices".
HPA said they are currently researching several other projects that could improve their energy efficiency. A significant portion of their annual emissions and energy consumption are related to process heat. The energy audit of HPA's farms explored the potential of kiln heat recovery and alternative fuel sources. HPA said "there are currently considerable risks associated with alternative fuel supply and retrofitting new technology to existing infrastructure is costly and unproven".
Whittock added: "HPA will continue to explore innovations that could mitigate energy use within existing infrastructure until there are safe and proven alternatives available".
You can read the full sustainability report here.