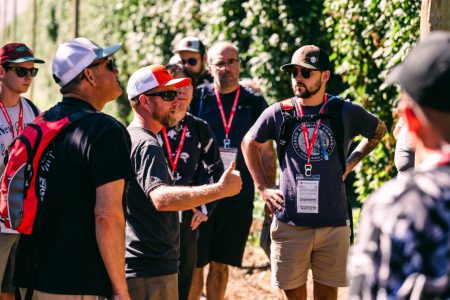 Yakima Chief Hops are inviting the global craft beer community to join their five-day virtual Hop & Brew School event that includes both hop industry insights and technical brewing seminars for all experience levels.
Due to COVID-19 restrictions, the normally in-person hop harvest event that was started in 2004 is for the second year in a row going online from the end of August. The 2021 schedule features sessions surrounding new discoveries in advanced hop research, hop application best practices, hop sensory training, a deep dive into the beyond beer beverage category and homebrew tips. Participants can also receive an inside look at organic hop growing and experimental hop development. Speakers will include both hop industry experts and veteran brewers.
"This year we are focused on providing valuable technical content to help brewers take their beers to the next level," Yakima Chief's Kevin Soules said. "We look forward to creating this platform for experts in the industry to share their knowledge with brewers across the globe."
While they are unable to host in-person farm tours, typically a major component of the Hop & Brew School program, Yakima Chief have created virtual Grower Profiles for an inside look at family farms.
To view the full 2021 virtual Hop & Brew School schedule, visit hopandbrewschool.com. The event is free and open to the public. Some sessions require early registration and a cost to supply hop samples for an interactive experience. Space is limited.
This is an edited version of a media release distributed by Yakima Chief Hops.