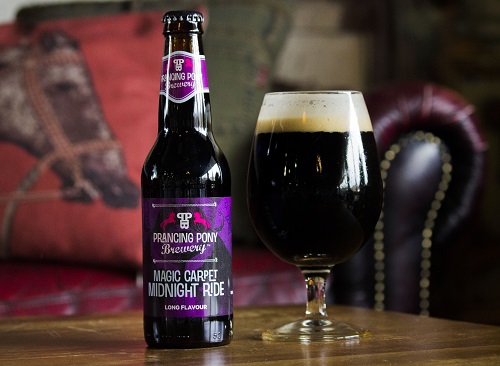 Prancing Pony brewers are well known for their philosophy of brewing their beers with malt, water, hops and yeast, only.
Established in 2011, the Adelaide Hills Brewery has created a range of bold flavoured beers including the India Red Ale which has won a Supreme Champion Trophy at the International Beer Challenge in London in 2016.  Their Magic Carpet Midnight Ride stout received a Gold medal in 2017 and, rightly so.
Super-smooth and with a big mouthfeel, the Magic Carpet Midnight Ride is a full bodied Russian Imperial Stout, appropriately presented in a 330ml bottle. Flavours of coffee, dark chocolate and malt are evident as soon as you open this bottle and pouring this black beauty into a glass immediately reminds us of dark, moonless nights, the comfort of a cosy fires and the depth of conversations that we have on long winter nights.  As the glass empties slowly, laces appear on its sides to inspire our imagination and creating the magic that this beautifully balanced beer promises.
As the tasting notes promise, this beer will take you to the eternal Stout Nirvana where the malt gods will put our weary souls to rest.
Created, brewed and bottled by an independent Brewery
Contact details
Corinna Steeb (CEO and Co-Founder of Prancing Pony Brewery)
42 Mt Barker Road, TOTNESS SA 5250