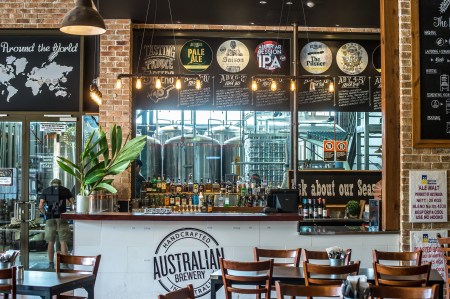 By Vanessa Cavasinni, Australian Hotelier
The Australian Hotel and Brewery has been sold by Momento Hospitality to Redcape in an off-market transaction.
The brewpub based in Sydney's north-west was sold to the national pub group, brokered by John Musca of JLL Hotels & Hospitality. This is the second western Sydney pub acquisition announced by Redcape in as many days, with the group also purchasing the Vauxhall Inn in Granville for well in excess of $30 million.
Australian Brewery also has approvals to double its production capacity and establish on-site packaging and canning facilities. While the Colosimo family, who founded the brewery and have grown business over two decades, will remain involved, Redcape will foster the growth of the brewery through its resources, and will distribute the beers through its 30 pubs nationally.
"The Colosimo family have done an excellent job at building up this hotel and positioning it for long term growth," comments Dan Brady, Redcape's CEO. "Anyone who has been to The Australian Hotel and Brewery will have first-hand experience of the personal touches evident across the vast range of food, drink and entertainment offered. This is a classic local pub that is integral to the social fabric of the community and we intend to ensure this continues. We look forward to being part of The Brewery's ongoing success story and providing support to the team there so that they can continue to grow their creatively authentic craft beer brands."
Redcape continues to target hotels in high-growth, high population areas. According to 2016 Census data the north-western Sydney corridor is forecast to grow by 47 per cent by 2036 to more than 250,000 residents. CEO Marcello Colosimo said that Australian Brewery will flourish even more with Redcape's investment in the business.
"Our family is very proud of the Australian Hotel and Brewery, it is has developed into a wonderful community asset that will continue to service the hills district under the guidance and care of Redcape.
"We are excited to maintain an interest in the brewery and anticipate the beer to only improve with the resources and depth of Redcape's distribution and skillset. The team we have built up will continue to innovate and produce great product for all our current customers both in the domestic and international markets."
Colosimo told Australian Hotelier that while the sale had come with "mixed emotions", the group had plenty of projects coming up, with its new pub The Governor set to open next week and two other venues to open next year.