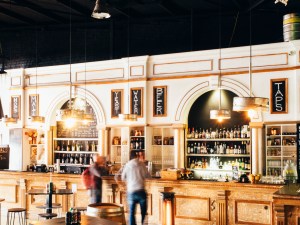 Brought to you by Bridge Road Brewers.
Dutch Trading Company (DTC) in Perth has taken top spot in Beer & Brewer's Top 50 Beer Venues for 2018.
The venue, which placed second in last year's standings and fifth in 2016, has climbed the ladder and finally reached the pinnacle, becoming the first venue from Western Australia to claim the honour. Opening its doors back in 2015, DTC has provided the people of Perth with an incredible range of of draught and packaged beers from the local area, the wider country and around the world.
"It was a funny couple of weeks beforehand when we were guessing where we would sit on the ladder," recalls co-owner Joel Beresford. "I never thought that we would win it. This is amazing, to get number one nationally – it was quite a surprise. There are so many great guys around, just a lot of esteemed venues. I don't like thinking 'we're the best' because I think people and venues can be great in many different ways.
"The year before we were second and the year before that we were sixth. We're improving ourselves and that shows on the listing. It's really good to get a nod from peers and be recognised. We made a lot of effort to get proper craft beer in public view. We couldn't do that without the team. We've got a really strong team. They were more excited than I was. I think I was in denial!
"Looking forward we want to be improving what we're already doing basically – better beers, better quality beers, better at acquiring beers, improving how our beer is received and pours from the taps. We want more events, more special events, bigger events. We want to become more collaborative, not just the stuff with breweries, but more organic iterations with other venues and other restaurants and stuff. We're trying to refine what we do already and hopefully getting more national and international recognition. We'd love to be a place that people from America or Europe stop by when they come to Australia."
The runner-up this year was another Perth venue with Petition Beer Corner, who moved up from number six last year, followed by Carwyn Cellars in Thornbury, Victoria, and Caboose in Perth, WA. Last year's winner Bitter Phew in Sydney took fifth spot. Completing the top 10 were The Local Taphouse in St Kilda, the Royal Albert in Sydney, The Alehouse Project in Brunswick, The Catfish in Fitzroy and Helsby's Ale House in Brisbane.
The Top 50 list comprised of venues in state capitals only, with Regional Venues celebrated in our Top 15. Newcastle's Grain Store took the top spot there, with The Goose in Busselton claiming second and The Cambrian Hotel in Bendigo completing the podium.
The list was compiled with the help of 23 industry experts, including the likes of Ian Kingham, Matt Kirkegaard, Kirrily Waldhorn and Tim Charody, aka The Beer Pilgrim. Each expert voted for their five favourite beer venues, with the scoring weighted so those at the top of the panellists' lists scored higher than those at the bottom. There were no strict criteria, judges voted based on a range of factors such as the quality of beers, service, staff knowledge, and venue atmosphere.
The complete list of the top 50 beer venues, together with judges' comments, can be found in the Winter Issue of Beer & Brewer, which is on sale now in newsagents, liquor stores and home brewer shops. You can subscribe to Beer & Brewer here.
Did we miss your favourite craft beer spot? Tell us on Facebook what your top craft beer venue is, and the spot with the most mentions will be announced as the Beer & Brewer People's Choice Top Beer Venue.
Top 20 Metro Beer Venues for 2018 are:
For the rest of the list, subscribe to Beer & Brewer here.