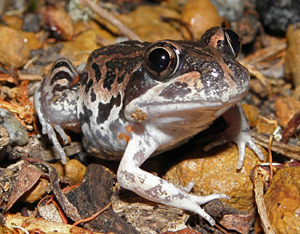 No this beer doesn't contain frog legs, but it does contain Otways region strawberry
clover honey and plenty of orange zest.
Named after the native frog, Pobblebonk is a French Farmhouse Ale or Saison de Miel (miel being French for honey) and is the latest new seasonal release from flying-under-the-radar brewery The Forrest Brewing Co. The brew is reportedly a golden-coloured, fruity beer
with notes of peppery spice, clove, orange and honey.

A relative newcomer on the beer scene – they started up in 2010 – Forrest is an independently owned, brother-sister operation that produces all its boutique beer on-site, in small 600 litre batches – using water from the Otways rainforest. As a result the beers are not widely available outside its hometown of Forrest. The brewery retails exclusively through Black Hearts & Sparrows
around Melbourne or road tripping types will find the brewhouse cellar door two hours south-west of Melbourne – one hour past Geelong.
All Forrest Brewing Co beers
are available in a 500ml bottles.
Image from Backyard Buddies, by Laura West.