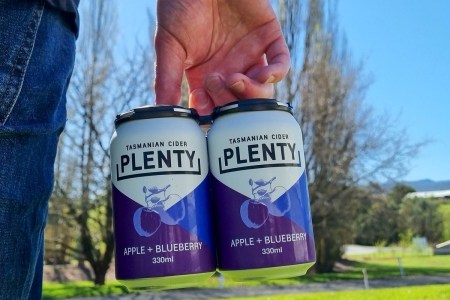 Cider Australia announced the winners of the 2023 Australian Cider Awards at a gala dinner in Melbourne last night.
Tasmanian producer Plenty Cider was awarded Best in Show and Best Specialty Cider for their Apple + Blueberry while they also won the trophy for Most Successful Small Producer.
The quality of entries this year left the judges impressed with a record 75 per cent of all ciders entered receiving a medal, showing how hard the industry is working to eliminate technical faults, meet style expectations and test the boundaries with new and exciting products.
A field of 219 local and international entries from 62 producers was judged by a highly skilled and diverse panel of nine judges led by chair Briony Liebich of consultancy Flavour Logic. Guest judge Darlene Hayes from the United States added valuable insight on global trends.
Thirteen gold medals and nine trophies were awarded. The Dry New World Cider class was a standout class with three gold medals awarded.
2023 Trophy winners:
Best in Show: Plenty Cider, Apple + Blueberry (TAS)
Best New World Cider: Hillbilly Cider, Apple (NSW)
Best Traditional Cider: Simple Cider, Wild Heritage Blend (TAS)
Best Perry: Napoleone Cider, Napoleone Pear Cider (VIC)
Best Specialty Cider or Perry: Plenty Cider, Apple + Blueberry (TAS)
Best Intensified / Distilled Cider or Perry: Carmel Cider Co, Apple Brandy (WA)
Best International Cider or Perry: Peckham's, Stoke Red (NZ)
Most Successful Small Producer: Plenty Cider (TAS)
Most Successful Larger Producer: Hillbilly Cider (NSW)
Cider Australia also honours individuals who have made an outstanding contribution to the Australian cider industry over a prolonged period of time through its Champion of the Industry Award. This year that award was presented to Max Allen.
Head here for a full list of award and medal winners.
This is an edited version of a media release distributed by Cider Australia.