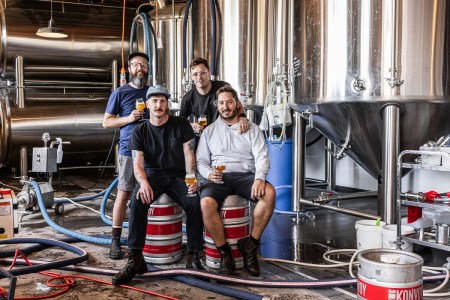 From seltzers to sourdough, Frenchies Bistro & Brewery say a diversified approach to their overall business strategy has allowed them to weather much of the tough economic climate and open a second brewery and significantly grow their capacity as well as their brew team.
Having opened the doors to their brewery and French bistro in 2017 in The Cannery complex in Sydney's inner south, the Vince de Soyres (pictured above on the far right) and Thomas Cauquil-founded company always had a decent point of difference within the city's craft beer industry to call on. But since the early days of Covid-19's impact, when Vince did admit to suffering a "three or four month hit", they've continued to find new opportunities for growth and stability, where "even when something gets tough, one of those new income streams stays strong and helps out the overall business".
Alongside their own production of beer, running the bistro and offering catering services, contract brewing at Frenchies "has hit the ground running" since they opened it up to partners, with everything from new seltzer brands (alongside their own Aperitivo Seltzer brand) to mocktails, energy drinks and flavoured waters. "Anything that is carbonated, we can do," Vince told Beer & Brewer.
They've also recently opened the Frenchies Bakery and Pâtisserie – two doors down from their venue in The Cannery – that has "brought lots of attention to the bar, bistro and beers" as new customers become aware of the wider business' offerings.
It's all empowered them to fire up an all-new production facility within the same Cannery complex that will deliver an extra 300,000 litres of fermenting capacity and which features five new 6,000 litre tanks, including two horizontal bright beer tanks, fermenters, brewing vessels and a filtration plant. They've also added a second whirlpool to their existing two vessel brewhouse. The two brewhouses are about 50 metres apart but linked by three pipes that run across the roof of The Cannery and means they can send beer from the original brewery to be packaged in the new one.
In turn, and working alongside existing brew team members Evan Belogiannis and Chris Farrell, Sam McDonough has joined as Frenchies' new head brewer, bringing with him eight years of experience having previously worked for the likes of Stone & Wood, Philter and White Bay, while, formerly of Slow Lane Brewing, Garth Jones has come on board as a new brewer.
"It had been very stressful (getting the new brewery launched) but it's all very exciting now," Vince said.
"Like anything, there is always a combination of things for why we feel we're doing OK. When the economic conditions are not so good, I think the businesses that are agile can last. The fact we were fairly small helped us, no doubt about it. And we did have a balance of income between the bistro and brewery. And that has helped us. But now we also have the income of wholesale, of contract brewing and of the bakery."
Looking to the future, with Garth (above left) and Sam (above right) joining the team, Vince said they were now looking to achieve the "sweet spot" of beer production but to surpass it by continuing to take on contract partners and their different beverage styles, as well as sniff new opportunities as they arise.
"It's a great feeling to expand the team," he added. "Within a week of Sam coming in, he knew the whole system and was brewing beer faster than anyone else.
"And the same goes for Garth. He came on board and just fitted into the team very easily. There's a great synergy between the beers Slow Lane are known for and what we are as well, so that all works nicely.
"It makes me confident for the future. We want to continue brewing, and to utilise the talents we have in-house. And the same goes for other aspects of our business.
"We think that approach will help Frenchies to grow as a group. We don't want to be focussed necessarily on one thing, but have other things to fall back on."