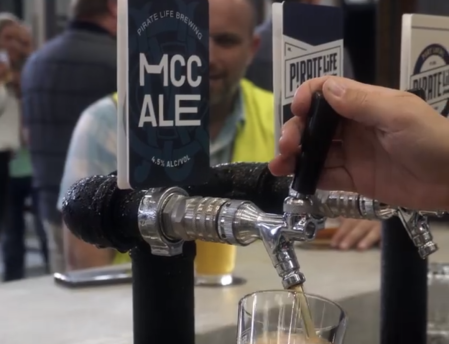 Pirate Life has released a signature beer with Melbourne Cricket Club, one of Australia's oldest sporting clubs and the organisation responsible for managing and developing the MCG.
MCC Ale is a 4.5% ABV Aussie pale ale, brewed with Pale and Vienna malts and a combination of Rakau and Taiheke hops – the latter providing stone fruit and citrus aromas. According to Pirate Life, "Soft fruit characters dominate the palate which finishes crisp and refreshing, with a light, moreish bitterness".
Melbourne Cricket Club approached Pirate Life to brew the beer, with the brief of creating a beer that would strike a chord with its members, guests and sporting fans in general – with aromas and flavours that embody "the Australian spirit".
"Because of the success of our MCC branded wines, we've been exploring how to do the same with our own beer for a number of years," says MCC CEO Stuart Fox.
"We approached a number of craft brewers and were delighted that Pirate Life, with the support of our icon partners CUB, accepted the challenge to brew a beer that's unique to sports stadiums across Australia."
"This is a beer that truly resonates," adds Pirate Life founder Jack Cameron. "Not only for its aromas and flavours which typify the powerful emotional sustain we get from the great outdoors, but also for our sense of vibrancy and group celebration.
"We love a good competition; we love a challenge and we love to have fun. It makes sense the MCC has come to us to create the beer that celebrates this Australian sense of freedom, unity and camaraderie."
MCC Ale will be pouring at the MCG from tonight (21 March) for the opening night of the 2019 AFL season.