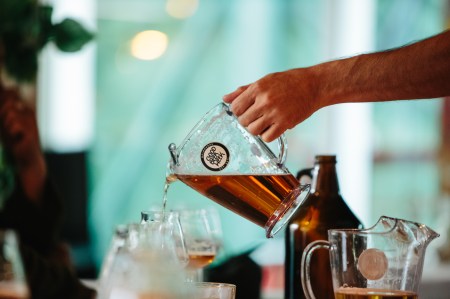 The program has been revealed and tickets are now on sale for the ninth annual Good Beer Week (GBW), which will take place over ten days from 10-19 May.
The 2019 edition of GBW will see more than 250 events take place around Melbourne and regional Victoria. Since launching in 2011, GBW has grown almost 500 percent in size to become the force that it is today.
"The program has taken a slightly new direction this year with some really strong music and beer events that are standing out from the crowd, these events are an amazing example of Melbourne's best in beer and music culture," says Good Beer Week general manager Siobhan Kerin.
The Good Beer Week Opening Party will again kick off proceedings with a bang on Friday 10 May, held at Beer DeLuxe Federation Square – with entry free and open to all.
Predicted highlights for the week include a number of events from Queensland favourites Balter Brewing – including a comedy night headlined by comedian Luke McGregor, and a four-course dinner created by world-class chefs Matt Stone and Jo Barrett matched with Balter's latest beers at Oakridge Kitchen.
'A Day on the Cans' is a single-stage music, beer and arts festival presented by Moon Dog Brewery at its new site in Preston. Artists including British India, Ali Barter, and Tumbleweed will take to the stage, and the giant black wall of the brewery will transform with live street art, DJs, tattooing and more.
For those with a competitive streak, 'Holes 'n' Hops was the first event to sell out at the last three Sydney Beer Week's, so don't miss out on this year's Holes 'n' Hops in Melbourne. For $110, guests will get nine holes at Albert Park Golf Club with a beer from Modus Operandi brewery at each hole.
Hawkers Brewery will this year take punters deep into a zombie apocalypse with 'East vs West: Cheeky Monkey vs Hawkers Beer'. Teams will battle through the zombie outbreak in an immersive reality experience for a grand selection of beer prizes.
The Trade Hub (presented by Cryer Malt) will again find a home upstairs at Beer DeLuxe Federation Square, with regular discussions and seminars giving insight into many facets of the industry including marketing, regulations and industry standards. People will get a chance to network, learn and make new connections. Most events are free, however you will need to register a spot.
Also on the education side of things, GBW has partnered with Little Creatures in 2019 to present the 'Little Creatures Beer School' all week at the Duke of Wellington. Boatrocker are also part of the education program this year with an advanced 'Boatrocker University' program to be held at the Whisky and Alement Whisky Room – diving deep into topics like beer and food matching and distilling beer into spirits.
And just like in year's past, the week will culminate with GABS Melbourne from 17-19 May, while the annual Australian International Beer Awards (AIBA) will be presented on the evening of 16 May.
With GBW returning bigger than ever this year, it's certainly one to put in the diary.