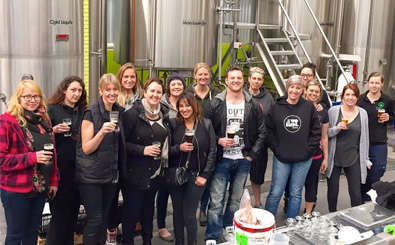 The Pink Boots Society Australia will launch its fifth collaborative brew, a dry hopped cherry saison named The Neneh tomorrow (16 Oct) at Two Row Bar, Collingwood.
The funky, refreshing 6.3% ABV cherry saison incorporates 200 litres of pure cherry juice from Yarra Valley based, Cherryhill Orchards.
The most recent Victorian Pink Boots brew was hopped with US El Dorado, known for its Cherry Jolly Rancher-like characters and Australian Enigma to give bright, clean, grape-like notes. The beer was fermented with a French saison yeast, to bring the funk.
The Neneh is dry, complex and hoppy with a hint of juicy cherry notes, a nod to the "staunchly counter-culture" of the inspiration for this beer, Neneh Cherry.
Proceeds from all of these collaborative beers are channelled into the Pink Boots Society's scholarship fund where women who earn an income from beer, can apply for various grants offered throughout the year. Learn to brew pilot breweries, brewing courses and a research study are just some of the projects already funded through these particular grants.
The brew took place at Two Birds Brewing and included representatives from Two Row Bar, Beer Diva, Mountain Goat Beer, Beer Deluxe, Rockwell & Sons, The Junction Beer Hall, Little Creatures Brewing, Good Beer Week, Kettle Green Brewing and many passionate supporters of good beer! The cherry juice was donated by Yarra Valley based, CherryHill Orchards and the El Dorado hops were donated by Hop Products Australia.
Once the beer has been brewed and kegged, it will be sold to select venues around the country.