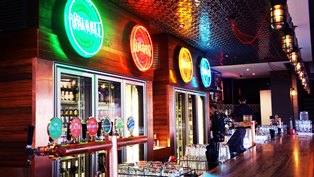 The bar atNorthbridge Brewing Company
Western Australia has welcomed its latest brewery, bar and restaurant, Northbridge Brewing Company (NBC), located in Northbridge, Perth.
Comprising two storeys of bar and dining areas, as well as a rooftop skydeck, all overlooking the city, NBC provides a welcoming, family-friendly environment for people of all ages.
NBC master brewer Ken Arrowsmith is delivering four craft beers, available over the bar straight from the tank. These include; Beerland Lager, Beerland Pale Ale, Beerland Wheat and Beerland Mild. The bar will also include a range of other beers and ciders, along with an extensive wine list.
"At NBC we're looking to cater for every beer drinker, whether you're a beer aficionado, a novice hoping to increase your product knowledge, or someone who just has a love for the amber liquid –we have something for everyone," said Arrowsmith.
"NBC is one of Australia's most sophisticated breweries of its size and its state-of-the-art technology provides extra flexibility for different beer styles, crafted to our own recipe. As well as our core range we'll also brew seasonal beers and rotate them through the menu on a regular basis."
NBC has a number of tasting options available including tasting trays, a Brew Master tasting package and a once in a lifetime opportunity to be a 'Brewer for a Day with Ken'.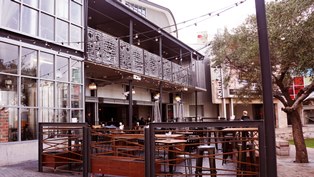 NBC's beergarden overlooksNorthbridge Piazza
Beerland Brewing, the group behind NBC, first had the vision to create a premium hospitality venue that would appeal to Western Australians seven years ago.
"We've long recognised Western Australia as the home of the craft beer revolution in Australia and we were thrilled when Ken agreed to head up our brewery. NBC aims to deliver a relaxed hospitality experience where exceptionally well-made beer is the focus," said Beerland Brewing director, Michael Rasheed.
NBC is adjacent to the Northbridge Piazza, on the corner of James and Lake Street in Northbridge. It is open for breakfast, lunch and dinner seven days a week.