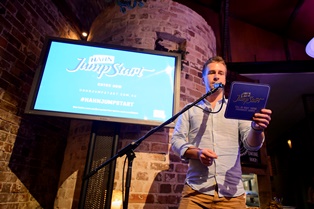 Jack Delosaat last night's Hahn JumpStart launch
One of Australia's most successful young entrepreneurs, Jack Delosa, has teamed up with Hahn to launch Hahn JumpStart; a program aimed at fostering collaboration, idea sharing and, ultimately, making these ideas a reality.
Inspired by the four guys with a shared passion for brewing beer who started Hahn more than two decades ago, Hahn JumpStart encourages Australians to share their ideas and passions for the opportunity to be mentored by some of Australia's best in business. The winning group will be rewarded with a $20,000 boost to bring their idea to life.
With two multi-million dollar businesses under his belt, campaign ambassador Jack Delosa not only knows what makes a good idea, but also how to take that leap and make it happen.
"Some of the best business ideas are those that have been thrown around with friends, so don't be afraid to share even the smallest seed of a thought. Hahn JumpStart is all about capturing these ideas and providing the platform to help some lucky people bring them to fruition," he said.
Now live,hahnjumpstart.com.au is a hub where groups of two or more can submit their original ideas for the opportunity to win $20,000, as well as a series of personalised mentoring sessions from some of Australia's most successful young business people. There will also be a runner-up and people's choice prize involving financial and mentor support.
Matt Tapper, national marketing director atLion said, "Hahn JumpStart is about helping groups of friends take an idea they're passionate about and making it a reality. Financial support is important, but when coupled with the experience and advice of people who have had an idea and made a successful business out of it, it's truly an invaluable prize.
"We created this program because we believe it's at the heart of what Hahn is all about – collaboration, passion and taking a risk on a new idea you believe in. Since our first beer was brewed back in 1988, we've had some amazing successes and some interesting challenges. Hahn JumpStart will give aspiring entrepreneurs the tools and tips to help make their idea a success."
With all ideas welcome, mentors for the campaign span a broad range of industries, including motorcycle business owner and twice named Australian Young Entrepreneur of the Year, Brad Smith; the founders and owners of Bondi Hardware, The Botanist and So Cal, Ben Carroll and Hamish Watts; and the brains behind innovative app TheBestDay, Whitney Komor.
Ideas can be submittedhereuntil 12 September, with Delosa and a panel of experts selecting the final winners on 3 December.