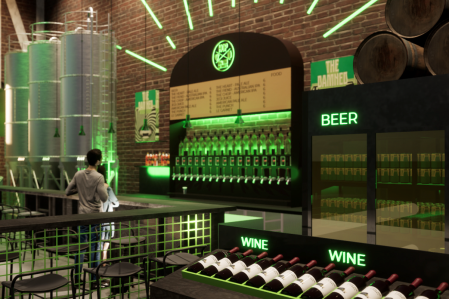 Melbourne's Hop Nation Brewing will unveil a new look for its Footscray taproom at the end of September with the venue now closed except for takeaway sales as it undergoes a complete transformation.
The move to renovate follows Hop Nation taking the bulk of its brewing to its production facility in Mornington. Whilst that freed up space for a more venue-focussed taproom, distilling production and their barrel-aged beer program will remain at the taproom.
To realise the open plan space that will take cues from Brooklyn warehouses, Hop Nation turned to hospitality interior designers Studio Y while the taproom will feature an all-new purpose-built kitchen called Good Pizza.
The new-look venue is set to reopen on September 28 in time for the AFL Grand Final long weekend when there will be 17 brews on tap, including their entire core range plus a number of limited releases. They will also be pouring the new easy-drinking release Footscray Draft.
"We can't wait to welcome our neighbours, beer lovers and pizza aficionados to the newly renovated Hop Nation Taproom for some good pizza, good times and obviously some damn good Hop Nation beer," co-founder Sam Hambour said.
When reopened, the Hop Nation Taproom in Footscray will operate Thursday to Sunday, 3pm to 9.30pm.