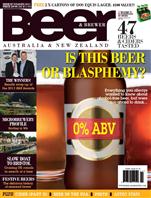 Beer & Brewer magazine
Issue 27 Summer 2013
On sale December 09 – March 30, 2014
On the Cover
FREE DOS EQUISLAGER OFFER
2013 B&B AWARDSRESULTS
FESTIVE BEERS
PART 2 OF OURHARVEST REPORT
0.0% ABV BEERS
CANAL BOATS, UK
BEER TOUR OF USA
A WEEKEND IN WA
TOURING THE BLACKDOG BREWERY
47 BEERS, CIDERS &WHISKIES TASTED
Features
36 FESTIVEBEERS
Pete Brown and NeilMiller take a look atthe long and glorioushistory of Festive Beers- just in time for the sillyseason, too!
42 HARVESTREPORT PT 2
Part two of ourrevealing look at theAustralian orchardsthat produce the fruitwe're all loving in ourciders, as the weatherwarms up.
46 ZEROALCOHOL
Beer & Brewer does theunthinkable, and looksat zero-strength beers.Why do they exist, andare they any good?
Contents
BEER TALK
10 NEWS ANDAWARDS
B & B Awards & Conference2013 wrap up, and more.
22 B&BUPDATE
Everything you need to knowabout your world of beer.
30 MICROBREWERYPROFILE
Getting down and dirty withthe crew from Bootleg (WA).
32 AZTEC BEER &CIDER STATS
34 COLLECTORS& CLUBS
We meet a couple of hardcorebeer lovers from NSW.
36 STYLENOTES
A look at the history of FestiveBeers, and why we still drinkthem today.
TRAVELLER
56 UK CANALBOAT TRIP
We set the Editor of The Shout,James Atkinson, loose on thecanals of Britian.
60 BEER IN THEUS OF A
Paul Golland sets his sights onthe craft beers in three iconicUS cities.
64 WEEKENDAWAY
A look at the magic of Perthand Fremantle, WA.
68BREWERYDIRECTORY
70 BREWERYTOUR
Meet the team from Black DogBrewing, a rising force in craft.
GOURMET
74 SUMMERRECIPES
Get stuck into theseamazing creations withbeer matches fromAustralia, NZ & imports.
78 BEER &FOODMATCHING
A cheeky Rauch Cheeserecipe from the geniusesin the kitchen at TheMonk Brewery, WesternAustralia's worst-kept secret.
THE FRIDGE
80 TOP 10 FORSUMMER
Ian Kingham's best brews foryou to try as things heat upthis summer.
81 NEWRELEASES
New beers and ciders to hitour shores from Australia,New Zealand around theworld.
83 EDITOR'S PICK
A farewell effort fromoutgoing Editor Stef, whoonce again braved the fridgeto f nd her favourite beers.
84 TASTINGNOTES
Want a handle on how thingstaste? Our expert panel spillsthe beans on a bunch of newbrews, ciders and whiskies.
Homebrewer magazine (flip side to Beer & Brewer magazine)
4 LETTERS TOTHE EDITOR
You share your thoughts,ideas and experiences.
5 COMPETITIONRESULTS
See who is brewing winningbeers and where.
6 Q & A
John Palmer and JamilZainasheff answer their mostcommon question aboutwater.
7 STOCKISTINTERVIEW
Wallington's HomebrewSupplies (Vic) chats abouttheir mixed business, whichhas recently expanded tostock homebrew ingredients.
8 RECIPES FORTHE SEASON
Fruit Wheat, Nelson's LightSummer Ale & HopportunityCost IPA.
10 MEET THEBREWER
Brewing big beers with loudmusic, Tim Thomas shareshis experiences at HopDogBeerWorks and gives us ahallowed recipe.
12 MEET THEBREWER
Alistair Turnbull tells of hissmall Bierhaus, Lobethal,which features 12 beers ontap at any one time!.
14 HOMEBREWCLUB
We profile PineriversUndergrounds Brewing –or PUBS for short.
16 INGREDIENTPROFILE
Drew Beechum explores thehistory and rebirth of rye inbrewing.
18 CHRISTMASWIT
We team up with OdysseyTavern & Brewery to createa beer for the season!.