There's been a flurry of new beers hitting taps and shelves across the country to mark the beginning of 2019. Read on to find out which breweries have stayed busy in the new year. 
Stone & Wood Pacific Ale – cans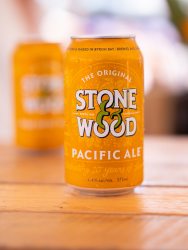 Stone & Wood is releasing its flagship beer Pacific Ale in cans from 21 January. While a limited can release was originally announced in November, the brewery has now confirmed the popular beer will now be available in cans (as well as the existing bottle and keg options) permanently.
"From when we first released the original Pacific Ale, our customers and our drinkers have begged us to put it in a can," said head brewer, Caolan Vaughn. "Up until now, our focus has been on making enough of the stuff, so we're pumped to be able to finally put it in cans ongoing."
Wayward Funky Pineapple Hand Grenade Brett IPA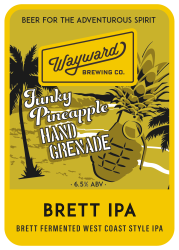 Wayward Brewing Co. has announced the re-release of Funky Pineapple Hand Grenade (6.5% ABV) to kick off 2018, a beer 100% fermented with Wayward's house strain of Brettanomyces.
The brewery describes the beer as "a veritable explosion of tropical pineapple, mango, peach and citrus aromas, with the Brett fermentation adding an extra layer complexity and a dry finish with a hint of tartness."
TWOBAYS (Gluten Free) Pale Ale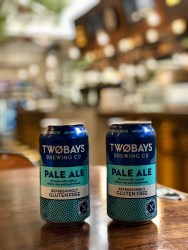 Australia's first dedicated gluten free brewery and taproom has released its Pale Ale (4.5% ABV) across the nation in cans. Brewed with millet, buckwheat and rice, the beer is described as "easy-drinking" with subtle citrus aromas.
"We hope those who choose a gluten free lifestyle enjoy our first offering in cans," said founding head brewer Andrew Gow. "And its early days, but I see no reason why we can't make beers for everyone to enjoy, gluten intolerant or not."
TWOBAYS has also revealed that a pilsner in can will follow, to be released sometime this year.
Rocky Ridge Session and Elder Sour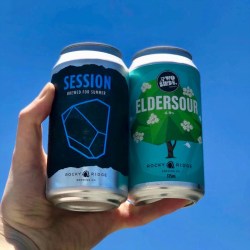 The newest addition to Rocky Ridge Brewing Co's core range is a 'Session Saison' designed for the warmer summer months. Citrus is added to the boil to create a light, tangy beer – and at 3.5% ABV, Session is designed for just that.
The brewery has also teamed up with Two Birds' Jayne Lewis to create Elder Sour (4.7% ABV). Brewed with Champagne yeast and Hallertau Blanc and Saaz Hops, as well as elderflower, it's another beer perfect for summer.
Moo Brew Launnie Longneck Lager 
Moo Brew has brewed a "highly-sessionable" beer to celebrate Mona Foma's move to Launceston.
This is the first location specific lager from Moo Brew, Tasmania's largest craft brewer, and has been created especially for Launceston in time for Mona Foma's relocation north. It's also Moo Brew's first longneck.
Everyone's doing cans these days, us included, so we thought we'd do a throwback to a much simpler time. A longneck time," says head brewer Dave Macgill.
Launnie Longneck Lager can be purchased at all Mona Foma venues from 16 January, including at a special Launnie Longneck Lager Lounge at the main festival site in Inveresk, and at bottle shops throughout the city. It will also be available to buy in Hobart, Melbourne and Sydney, as well as at Festivale in Launceston's City Park in February, while stocks last.
Nowhereman Berry Gose Round Mixed Berry Gose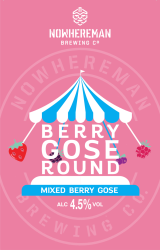 Perth outfit Nowhereman Brewing Co. has announced the release of another sour beer, following the release of three sours (margarita gose, blood orange and mandarin sour, and a passionfruit sour) at the tail end of last year.
The new beer, Berry Gose Round, is a mixed berry gose. Nowhereman have used of strawberries, blueberries, blackberries and raspberries to create a fresh and fruity complement to the gose style's tart and moreish briny character.
Berry Gose Round (4.5% ABV) will launch at Nowhereman Brewing this Friday (18 January), with $20 jugs available between 4-6pm.
Nowhereman and Eagle Bay Cherry Psycho Sour Cherry IPA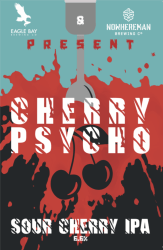 The team at Nowhereman must be busy, as they've also released a collaboration beer with Eagle Bay Brewing in recent weeks.
Travelling down to Eagle Bay's brewery at Dunsborough near Margaret River, the two breweries produced sour cherry IPA that's vibrant pink in colour and balances the refreshment of a sour beer with the hoppiness of an IPA.
To make the beer, 60kg of sour and dark cherries were blitzed and added to the fermenter, while Calypso, Simcoe and Brambling Cross were used for dry hopping.
Bright Brewery Treeehop Strong Pale Ale and Dive Bomb Citrus Summer Ale 
No, it's not a typo – Bright Brewery's latest release Treeehop is, in their words, "brought to you by the letter E".
Brewed with Ekuanot, Enigma and Eureka hops, Treeehop Strong Pale Ale (6% ABV) is deep gold in colour and presents with an assertive bitterness and intense tropical fruit and dark berry flavours, thanks to a double dry hop.
Dive Bomb, on the other hand, sits closer to the 'easy-drinking' end of the scale. At 4.8% ABV, the Kolsch-style summer ale is described as a "literal flavour bomb" with "summer citrus flavours of ginger and lemon peel".
Both beers are available exclusively at Bright Brewery and to members of its Mash Club.