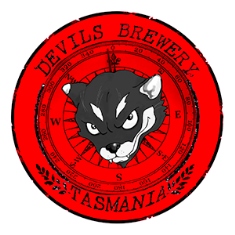 On the back of continued growth in the craft brewing industry in Tasmania, a new player, Devils Brewery, has entered the market.
Devils Brewery head brewer David Tottle says he was inspired by a leading international craft brewing brand when deciding to pursue a similar path to a 'gypsy brewing' company. The term has found its way into the industry to describe brewers who utilise downtime on existing breweries to create their own beers.
All the Devil's Brewery recipes are their own andTottle is 100 per cent hands on at brew day, from milling the grain to hop additions.
Working with local Tasmanian producers is a large part of the business' ethos and allowsTottle to create fresh and interesting beer styles.
The first beer, the 'Cherry Popper', a chocolate and sour cherry Stout is now available on tap and is packed full of Tasmanian cherries predominately from Richmond Cherries just outside of Hobart. The next beer will utilise the skills of the local Bruny Island Smokehouse (BISH), with the 'Smokey Moll' a Molasses Porter, with grain smoked by BISH.
All ofthe beers are limited release, with only two kegs available to each craft beer venue.
"It's the love of making beer…sharing it with others…the unbridled creativity of it. I'm always on the lookout for interesting ingredients that could help create a wild, unusual and original beer," Tottle said.