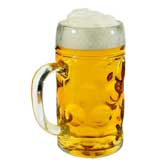 DEXUS Property Group and Red Rock Leisure have officially announced the launch of HOPHAUS, in Southgate restaurant and shopping precinct's iconic space by the Yarra River, Melbourne.
In what they are calling a contemporary twist on the great Bavarian Beer Halls, HOPHAUS is the latest addition to Red Rock Leisure's stable of social pubs and Southgate's restaurant precinct, drawing inspiration from the history and tradition of the world's original "craft breweries" that celebrates the Germanic approach to brewing.
Scott Travers, DEXUS Regional General Manager Office & Industrial says, "We are proud to announce the opening of HOPHAUS at Southgate this year, which will add a unique new beer hall experience to Southgate. Along with the impending opening of new Southgate Italian wine and tapas restaurant ARTUSI, Red Emperor's new location and chef Lin Chan (Flower Drum), and Bluetrain's critically acclaimed new upper level fit out, HOPHAUS affirms Southgate's position as a landmark Melbourne dining and socialising destination."
HOPHAUS owner, Paul O'Brien says, "We wanted to create a truly one-of-a-kind experience in this iconic location, an experience that delights and surprises yet also feels familiar and hospitable."
HOPHAUS will house over 30 draught taps around its huge central bar, including a selection of German, Austrian, Belgian and Czech Brews. The feature beers, they tell us, will change regularly and some of Germany's and Europe's oldest and most loved brews will be available on tap, including beers from the famed Weihenstephan (the world's oldest brewery), Paulaner, Franziskaner and Bitburger breweries.