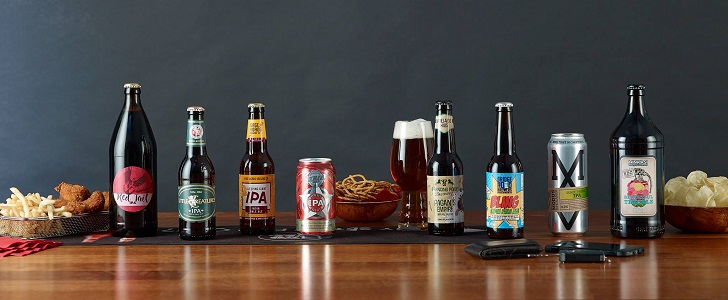 In our Autumn Issue, Jeremy Sambrooks takes a look at how this centuries-old beer style become the darling of the modern craft beer industry. Here is an excerpt from that feature… 
"That's it! Give up, people, because beer style no longer matters. In the wake of white IPAs, black IPAs, Belgian IPAs and session IPAs, we might as well accept it: All beers are now IPAs! No more fussing with ales vs lagers; now we just have warm-fermented and cold-fermented IPAs. Thirsty for a Pilsner? Have this cold-fermented session IPA instead. Trappist ale? Nope, that's a non-secular, high malt IPA." These are the words of award-winning beer writer, Stephen Beaumont, who on his blog, Beaumont Drinks, captured the feelings of many regarding the seemingly ever-expanding definition of India Pale Ale.
Peruse the shelves of a well-stocked liquor store and you'll see a wide array of beers with IPA in their names, including, but not necessarily limited to: English IPA, American IPA, Belgian IPA, German IPA, Australian IPA, double/imperial IPA, session IPA, white IPA, black IPA, red IPA, rye IPA, fruited IPA and wet-hopped IPA. It could be argued these days that the IPA acronym is being used more as a marketing term than anything else, riding on the back of the success of craft beer's most popular style.
While, the 2016 Australian Craft Beer Survey showed IPA to be second to pale ale on the local front, in the much larger American market, there is no doubt that IPA is king. According to the market research firm IRI Worldwide, in 2015 IPA was clearly the best-selling craft beer style, with a 26 per cent volume share of the sector, up from eight per cent in 2008.
The Brewers Association (BA) has been hesitant to add many of the IPA sub styles into its guidelines as most are fairly new and could turn out to be fads that don't stand the test of time. In the 2016 update of its beer style guidelines, the BA lists just four IPA styles: English, American, imperial (or double) and session.
THE ENGLISHMAN AND THE AMERICAN
Although the style has been reinvented by American craft brewers, India Pale Ale was originally an English beer, named after its popularity with the Indian export market. Based on the best available information, we know the earliest English IPAs were six to seven per cent alcohol, very pale in colour, heavily dry hopped and well-aged before consumption. The style has evolved over time, becoming more malty, less hoppy, and lower in alcohol. Today, some English breweries make beers bearing the IPA name that are barely distinguishable from low gravity bitters, although most don't consider them to be true India Pale Ales.
Mark Rivers is the co-owner and brewer at Three Rivers Brewing Company, a small and relatively new operation in Mandurah, an hour south of Perth. Rivers brews a variety of traditional, true-to-style beers including his King Henry IPA. "Like most of our philosophy and ethos, King Henry IPA is traditional," says Rivers. "It's an English rather than American IPA, so it's quite a bit more subdued with less obvious hop aroma and a very late bitterness in the mouth. Of all our beers, including our stout and brown ale, King Henry is probably the one that ages most interestingly. We recently found an old bottle from quite a few years back – the caramel flavours had turned really Christmas cakey and port-like. Quite different from when fresh but still a great drop."
Although American IPAs are named after the original English beers, in character they usually have more in common with American pale ales. When compared to English IPAs, American IPAs typically have less fermentation character, allowing for a cleaner expression of hops. They are often (but not always) higher in alcohol, higher in bitterness and have an aroma dominated by American hops, which can be described as floral, citrusy, piney and resinous. The style is sometimes separated into two sub-styles: the malty, more balanced IPAs from America's East Coast and drier, hoppier West Coast IPA, though in recent years, more brewers have been favouring the West Coast style, regardless of location.
DOUBLE THE HOPS!
Vinnie Cilurzo, the owner of Russian River Brewing Company, is credited with having invented the double (or imperial) IPA. In 1994, while working for Blind Pig Brewery, he brewed a beer called Inaugural Ale, which had 30 per cent more malt and double the hops of the brewery's regular IPA. Larger breweries like Rogue Ales and Stone Brewing followed suit, releasing their own double IPAs and in 2001, now at Russian River, Cilurzo created the beer that became the benchmark for the style – Pliny the Elder. Double IPAs are essentially stronger, hoppier versions of American IPA and are usually brewed with a portion of sugar, which is more fermentable than grain and helps to keep the body and sweetness down, allowing for maximum hop character and drinkability.
Many Australian craft breweries have released double IPAs in recent times, including Kaiju! Beer, whose 'ludicrously hopped' Aftermath Double IPA clocks in at 9.1 per cent ABV. Kaiju's head brewer, Nat Reeves – a hop head of the highest order – spoke to us about his love for all things IPA. "It was hoppy pale ales that got me into all grain brewing," says Reeves. "After the first batch I thought, 'this could use more hops', then the next batch I thought, 'this could use more hops' – it was a slippery slope. Soon the pale ales were 7.5 per cent and hopped out the wazoo. Seeing as they didn't fit into the pale ale style category anymore I realised it wasn't pale ales my body required but IPAs. The best thing about brewing IPAs is tasting them fresh out of the tank. Yeah, they take a bit longer and have lower yields, but they're worth it. All our beers are some variation of an IPA anyway, so I don't really know any different."
On the other end of the scale is session IPA – a somewhat controversial style, as some argue that it is no different from American Pale Ale. Looking at the BA guidelines there is a lot of crossover between the styles, though the session IPA can be lower in alcohol (3.7 to five per cent), higher in bitterness and has a slightly wider range of colour.
FADS, TRENDS AND THE FUTURE OF IPA
With the growth in IPA's popularity has come a string of new beers using the IPA acronym. Some are brewed with unusual malt bills, others use a more expressive yeast strain but what they all have in common is a liberal use of aromatic American and New World hops. One style that looks set to stay is Red IPA (sometimes called imperial red or imperial amber) which combines the hop profile of an American IPA with the heavier, sweeter malt body of an amber ale. Adelaide Hills craft brewers Prancing Pony recently had success with their take on the style with their India Red Ale being awarded the Supreme Champion prize at the International Beer Challenge in London last year.
"Our 7.9 per cent India Red Ale was always going to be a winner," says Corinna Steeb, CEO and co-founder of Prancing Pony Brewery. "We released the beer in 2014 and it turned out exactly as we imagined – you see, we develop the persona of our beers first and then the brewer makes it. Our India Red is full-bodied, red, voluminous, deep and complex – when you take a deep breath, you imagine a hot, sweet Indian summer night with ripe fruity flavours. Winning the Supreme Champion Trophy was a humbling experience and totally unexpected but I am glad we did so we can now share the love of this wonderful beer with the world.' Prancing Pony also produces a 6.6 per cent IPA called The Pagan's Empire, which is brewed with a significant proportion of rye malt.
A new take on the IPA style has recently emerged from America's northeast and is known as New England IPA. These beers are deliberately left cloudy, sometimes utilising flaked barley or oats to create a hazy appearance. They tend to be relatively low in bitterness and have a hop character that is often described as 'juicy' – favouring tropical fruit over the citrus and pine of more traditional American IPAs. There is currently some controversy whether New England IPA is truly a new beer style, or just another variant of American IPA.
One Aussie brewery embracing the New England style IPA is Batch Brewing Co., based in Marrickville, Sydney. Founders Andrew Fineran and Chris Sidwa are both American expats who opened the brewery in late 2013. Batch number 89 for the brewery was a New England style IPA called Juicy as Phuck. "The name is Juicy because, well… it's juicy!" says Fineran. "The whirlpool hopping, residual sweetness ad yeast flavours create a unique fruit flavour similar to juice. The 'Phuck' is an honest assessment of the intensity and an obvious play on words. It's a nod to one of our favourite Vermont bands, Phish. We happened to be listening to Phish at the time of brewing and it just stuck."
There seems to be no stopping the rise and rise of IPA. Based on the last few years we can expect to see even more variations of the style popping up. Current trends suggest we will continue to see IPAs becoming drier, less bitter and more aromatic, with an increasing emphasis on new hop varieties. For all the hop heads out there, it's a great time to be alive.
To read the full article, subscribe to Beer & Brewer here.