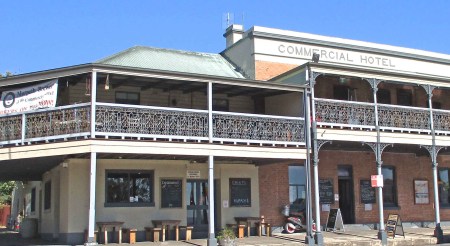 For the last five years, Dave Allen has been quietly brewing away in a spare room previously filled with pokies at the Commercial Hotel in Morpeth, a small town in the Hunter region of NSW.
Morpeth Brewery & Beer Co celebrated its fifth anniversary in April; at the forefront of festivities was its Anzac Ale, the brewery's first beer to be sold over the bar on Anzac Day back in 2012.
A full-bodied beer with pleasant hop character and a flavour reminiscent of Anzac biscuits, Morpeth Brewery and brewer Dave Allen's range of beers does, however, extend beyond the Anzac Ale.
Despite a brewing space of only three by three metres, and a brewing capacity limited to a 200-litre Speidel Braumeister – the first Speidel commercial brewery in Australia – Allen estimates he has brewed and sold almost 50 beers in the five years they've been open.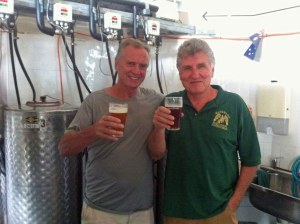 "We have a number of regular beers that are on the bar all the time: our Close Call Pale Ale, Pacific Coast Cream Ale, Black Tractor Black IPA, Tradewinds IPA, and a number of special releases that come back every now and then like the Anzac Ale," Allen told Beer & Brewer.
"Some of our popular ones have been the Mullet Run Maple Porter, the Bluenose IIPA, and a pumpkin ale which usually comes out in late winter."
All of Morpeth Brewery's beers are free of additives and preservatives, are neither filtered nor pasteurized, and are naturally carbonated and conditioned.
Five of the taps in the Commercial Hotel are dedicated to Allen's brews, competing with the regular Aussie big-hitters of "Tooheys and all that stuff," and while they occasionally sell to other pubs, most of his output goes through the Commercial.
The micro-brewery is well known in town and Allen says they've made themselves a bit of a name in the local area, but with no space available to bottle in the tiny space, Morpeth Brewery's reach can only go so far.
So, Allen says, the time has come for expansion: "We're in the middle of expanding and diversifying the business – expanding the brewing capacity and diversifying in terms of bottling and barrel-ageing."
Part of the brewery will be relocated to new premises, with bottling facilities and a bigger capacity, but the micro-brewery will remain at the pub, where Allen will continue to brew his on-premise beers and trial brews.
With five years brewing in Morpeth, adding to a few years of owning a brewpub in the UK before that, Allen says getting his beers out on the wider market is something that is long overdue.
"If the bottling goes well – it's all about quality control, you want to make sure that when someone opens a bottle of the beer it tastes like what they get on draught, a challenge for every brewer – and it succeeds locally, we'll certainly look at doing bottles all over the country really."
From a micro-brewery in a room at the local pub, to nationwide distribution: if Allen pulls it off, Morpeth Brewery's story has all the makings of a craft beer fairytale.