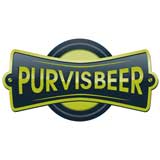 Melbourne-based importers Purvis have announced a new range of brews to hit the docks this week, including a few very special brews.
The new beers include Yeastie Boys His Majesty, a Belgian-style 8.5% ABV Ale described as "An intoxicatingly delicious Belgian-style strong ale that brings together German malt from the town of Bamberg, choice Nelson hops, free-range Southland water and an exotic Trappist yeast from the Belgian region of Wallaonia."
The list also includes Bridge Road/Mikkeller Dark Harvest 6.6% ABV Black IPA, a collaboration between Bridge Road Brewers and gypsy brewer Mikkel Borg Bjergsø of Mikkeller, created one Friday evening of March 2012.
Last but not least is the Two Birds Taco, a 5.2% ABV Hoppy Wheat Alethat was inspired by Jayne and Danielle's trip to Southern California, and is a reflection of the climate and cuisine, made with corn, corriander, and fresh lime peel.
For more information on these beers, check out the Purvis website.