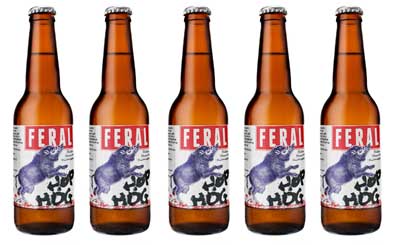 Written by Stefanie Collins, editor bars&clubs 
Beer lovers are in for a treat at this year's Top Shelf boutique drinks festival, with many of Australia's finest brewers exhibiting their wares.
Western Australia's award-winning Feral Brewing will be pouring their exceptional Hop Hog IPA, which regularly tops the charts as Australia's favourite craft beer; Australian Beer Co.'s caravan will be on site offering the full range of Yenda beers; while Asahi's Cricketers Arms craft beer selection is sure to bowl over a few punters as the Ashes gets into full swing.
Among the other brewers and beers exhibiting at Top Shelf are: Beaumonde Boutique Beer; Hawthorn Brewing; Northdown and Edge Brewing Projects; Kaiju Beer; Bridge Road Brewers; Beach Hut Brewery; Kronenbourg; Prancing Pony; Cavalier Brewery; Colonial Brewing; Young Henrys; Good Brew Co; and Temple Brewing. While for those interested in the inner workings of a microbrewery, FB*Propak will have one on display.
The cider category will also be well represented with Batlow, Frank's and The Apple Thief all available for tasting.
If you've ever considered joining the ranks of Australia's craft brewing industry by opening your own brewery, there will be a free seminar offering advice from brewers who have been there and done it already. Or, if you're new to beer, a special session on how to taste beer will provide the perfect introduction.
Free sampling and seminars
Don't forget – sampling of many of the products at the show is absolutely free, as is attending many of the great educational seminars and tutored tasting sessions. Longer serves are available for purchase, along with full bottles to take home.
At the show, there will be a range of delicious food to accompany your favourite beer, with vendors such as Huxtaburger and Meatmother offering burgers, lobster rolls and slow-cooked brisket.
In its second year, Top Shelf is Australia's premium boutique drinks festival showcasing the finest spirits, beers and wines available today.
Top Shelf will take place at the Royal Exhibition Building in Carlton, 8-9 August.
Tickets are just $25 when you buy online.
For weekly spirits news, sign up here.