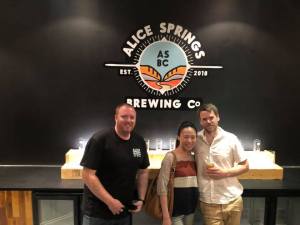 A new microbrewery and taproom is set to open in Northern Territory's Alice Springs.
Alice Springs Brewing Co was founded by Kyle Pearson and his partner Sarah Hore, with support from family and friends. It is is set to be the first brewpub in Australia's desert centre and the first brewery there since the early 1900s.
Pearson, originally from Melbourne, has brewing experience, having worked for six years as a sales rep at CUB in Northern Territory and Victoria, and plenty of hospitality and homebrewing experience prior to that.
"I've been in Alice Springs for 15 years," says Pearson. "I've always had a keen interest in beer. I started homebrewing when I was quite young, around 18 years old, with mates. I've had my interest rekindled and now we've gone and opened a brewery!
"Especially working for [CUB] I saw a lot of their breweries and it was lovely. It was the beginning of the craft explosion when I was there. We made the decision earlier this year, but I've been researching it for some time."
The brewery has been built in an old car museum, which had subsequently been turned into a function centre and a restaurant.  It features a 500 litre brewhouse and a 50 litre brewhouse. The bar will have six taps.
Last Friday, the brewery released its first batch of beer to the public. It has not yet got an on-premise licence, which is slowing its official opening, but it has been granted a venue-to-venue licence, allowing Pearson to sell his beers to other venues in Alice Springs.
The first beer to be launched is a summer ale called Almost Summer, which was unveiled to customers at local craft beer bar The Jump Inn on Friday 16 September.
"It's amazing," adds Pearson. "We've been blown away by the response and the positive comments. We've still got a lot of work to do, but it's really encouraging to get that support early on. We had planned to make a summer ale focused around Galaxy hops. The current trend is around Galaxy. But we couldn't guarantee a steady supply so we used Citra and Mosaic. So it's almost a summer ale. And we're almost open, so the name fits on a lot of levels."
As well as sourcing hops, there are other challenges to brewing in Australia's remote desert centre, chief of which is water.
"It's hard to work with," says Pearson. "We have had to do some processes to get the water to a suitable standards. We're refining that as well to make things more efficient. We're conscious that we're in the middle of the desert so water is in short supply. We want the best quality water and not to waste much."
Freight and delivery are other concerns, given that no hops or malt are grown locally, while the upcoming summer is also at the forefront of Pearson's mind.
"Bringing in the equipment was a huge amount of freight," he says. "We're coming out of our cold time so there 's going to be heat. Trying to maintain that suitable temperature is a big thing.
"The pay off for us is we're getting fresh beer. The beer we get here travels by truck in 40 degree heat. We've had a lot of comments about the flavours and aromas of our beers. They may be there in other beers, but they're not as prominent by the time they get here. Fresh beer is always good and we can provide that.
"We've got a number of beers developing. We've been test batching – stouts, IPAs and ambers. We've got lots of beer ready to unleash when the time is right. But given that we are so small, we've got to be mindful that we need to grow organically."