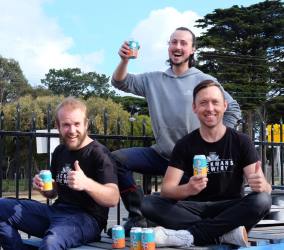 Blackman's Brewery is set to install two 5,000 litre tanks, which would triple its original brewing capacity.
The tanks, which are expected to be in place before the summer in November, have been financed by a $100,000 investment, which came from the bank. The growth will allow the brewery to produce between 250,000 and 300,000 litres a year, meaning it can keep up with increased demand. The brewery will be extended at the back of the venue, which is located in Torquay, Victoria, and there is still room for further growth. Founded in 2016 by Renn and Jess Blackman, Blackman's Brewery already features a canning line.
"We started off with 8,500 litres of tank space," recalls co-founder Renn Blackman. "In the second year we're added another 5,000 and in the third we added another 5,000, and now this year we're adding 10,000 which is exciting.
"Everyone is getting behind it, which is great. The venue itself, it's gotten busier and busier every year. Geelong is becoming a bit of a craft beer hub."
Blackman's Brewery will be launching a new beer to celebrate the growth – a mid-strength beer called Local Standard.
"Hopefully we can grow more next year if we can find space for more tanks," says Blackman. "We'll take it as it comes. If it's good this year, then we'll see how it goes."