Opening in January this year, Brewhouse Margaret River is owned and run by three local families who had a vision for a microbrewery that the townsfolk could walk to.
Situated on an elevated location overlooking Karri Forest, the iconic 1940s shack on the edge of town is the perfect setting to relax for an afternoon session.
The brewery has a firm focus on producing quality, simple, true to style beer, with award-winning homebrewer turned professional Andrew Dykstra taking the reins as head brewer.
"I started entering exhibits at the Perth Royal Show and started winning awards, so I thought – well I must be doing something right," Dykstra said.
"It was very interesting upsizing from an esky brewing 50L at a time."
The new brewery, housed next to the main restaurant and bar building, is what Dykstra refers to as their 'pride and joy'.
"We have a 10 hectolitre mashtun/lauter tun two vessel system that is steam fired designed and made by L.A. Inox in Italy and put together with FB*PROPAK here in Australia," he said.
"The brew plant can be viewed through the windows of the deck right outside the building."
The current beer range includes eight different styles, including; an Aussie style lager, Kolsch, American pale ale, North English style brown ale, Czech Pilsener, brown IPA, oatmeal stout and a mid-strength golden ale.
Along with the full current beer range, the brewhouse has a couple of rotating guest taps for Aussie and international beers.
While packaging will probably come later this year, kegs have started rolling out to a few venues in the region.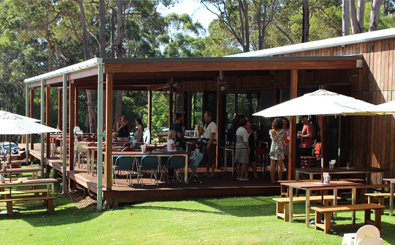 A key to forming the business has been the trilogy of experience from all three working directors.  Dykstra's brewing talents have been matched with decades of hospitality knowledge from head chef Aaron Brown together with business management skills of general manager Iliya Hastings.
The boys have been part of the local community for 15-20 years and have set it up to be the town's brewery.
"Margaret River has always been synonymous with world class wine. We also have some great breweries in the region. By bringing a brewery into the town, it gives this beer loving community a great place to enjoy interesting, fresh and true to style beer," explained Hastings.
To help stimulate the local interest in beer, Brewhouse Margaret River has recently kicked off the 'Backyard Brewing Tournament'.
"The winning brewer will get to brew their beer with Undies (Andrew) in our brewery and we'll put it on tap at the bar. Should be a fair bit of local kudos for whoever wins – it'll be fun," said Hastings.