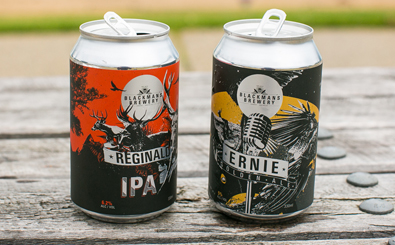 Victoria's Blackman's Brewery is making use of its shiny new canning line, with Reginald IPA the first of the core range canned and on sale this week.
"Having our full range packaged is something we've been aiming towards for the last two years. We're really excited to be going down the canning line," co-owner Jess Blackman told Beer & Brewer.
"Next up we have our Ernie Golden Ale, which will be available May 17, following this, will be our Arthur Smoked Porter, Bob Wit and Blackman's Unfiltered Lager in the next two months. We will also can small quantities of our seasonal brews."
The Canadian Cask SAMS Canning Machine is able to get through an impressive 900 cans per hour, which will prove handy as Blackman's looks to widen its distribution.
"We've now teamed up with Experience It Beverages who have been selling Blackman's kegs Australia-wide over the past few months. Having a packaged option should really boost this," said Blackman.
The cans are currently available from Blackman's Brewery Torquay only, but will start to be distributed nationally next week.