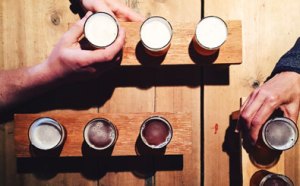 GABS has passed in Australia and the new month is upon us and breweries across Australia have released a range of beers.
Brewmanity Demon Brew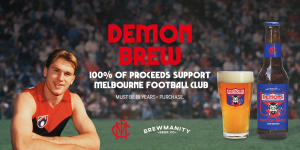 Brewmanity Beer Co has partnered with Melbourne Football Club to release the inaugural edition of Demon Brew as a fundraising initiative to support the club.
As a former captain of the Melbourne Demons, Brewmanity co-founder David Netiz was particularly keen to get involved.
Demon Brew is a lager based on Brewmanity's 'Tango and Splash Juicy Lager, a "mash up of an Australian-style lager, and the low bitterness and late hop characteristics of a New England IPA".
Little Bang Brewery's Undercover Fashion Police 5 and May Contain Traces of Panther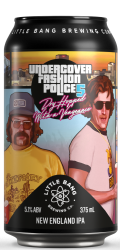 Little Bang Brewery has released two of its beers in cans for the first time. Undercover Fashion Police 5 – Dry Hopped with a Vengeance, is a New England IPA with a 5.1% ABV and 43 IBUs. A special release, it is available in 375 cans and its tasting notes are described as "hazy, low bitterness with a huge late and dry-hop load. Fruity as heck".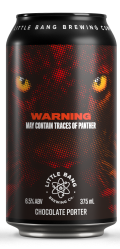 May Contain Traces of Panther is a seasonal release chocolate porter. Available now in 375ml cans, it has a 6.5% ABV and 32 IBUs. Its tasting notes describe it as "a traditional British porter, not quite black, very dark red and more caramelly than roasty".
Wayward Brewing Co Coffee & Donuts Milk Stout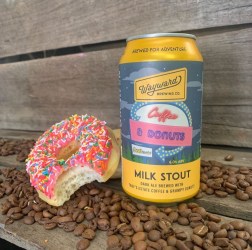 Wayward has canned its official GABS Festival beer, which was made in collaboration with nearby businesses Toby's Estate Coffee and Grumpy Donuts.
The collab Coffee & Donuts Milk Stout uses actual fresh donuts and premium coffee to provide tasting notes of "coffee, cinnamon and vanilla". While Toby's Estate and Wayward have worked together on previous brews, this was the first time that Grumpy Donuts was also brought into the brewery.
Two Birds IPA and Apple Cider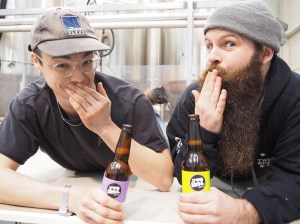 While Two Birds' flagship beer Golden is being discontinued, the brewery, which celebrated its eighth birthday today (13 June), has added two new products to its year-round range – an IPA and a cider.
The India Pale Ale is available in four packs and on tap. It is made with Australian and US hops.
The first ever Two Birds Apple Cider will be available on tap at The Nest and in six packs nationwide.
Little Creatures Stout

Little Creatures has launched a Winter Stout for the colder season. This limited edition seasonal ale has been developed using a refined version of Little Creatures' stout recipe in a bid to warm people up this winter.
It uses EKG, Fuggles, US Loras and Southern Cross hops, with the malt bill featuring Pale, Munich, Crystal, chocolate, Carafa T3, Golden naked oats and Roasted. It has a 5.8% ABV and 58 IBUs.
Modus Operandi Silent Knight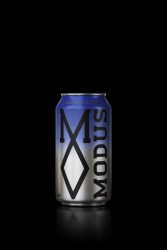 Modus Operandi has added Silent Knight Porter to its core range, packaged in 375ml cans. Brewed using nine types of malt, the beer was designed as a lighter version of a Russian Imperial Stout. It has a 5.6% ABV.